USA Greenlights Fourth Season of 'The 4400'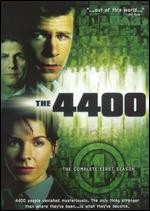 USA Network has ordered 13 one-hour episodes of the Emmy-nominated and critically-acclaimed hit series
The 4400
. The series will return in summer 2007 with production scheduled to begin in Vancouver in early 2007.
"This show continues to thrive creatively from year to year," said Jeff Wachtel, USA's executive vice president, original programming. "We're looking forward to another season filled with intriguing characters, unique twists and incredibly suspenseful storylines."
"The 4400" explores the travails of the 4400 people who all at once returned in a ball of light to Earth; though the returnees had not aged physically, many of them reappeared with dramatic abilities ranging from enhanced reflexes to precognition. NTAC (National Threat Assessment Command) is the government agency responsible for keeping track of the returnees and investigating all things related to the 4400.