Upper Deck Inserting 'Presidential Predictor' Parody Cards In Baseball Card Packs

What true-blooded American doesn't like baseball? And who doesn't have an opinion regarding the country's ever-changing political climate? Well, in its most recent baseball card product launch, the Upper Deck Company has married the two hotbeds of debate by producing a very unique "Presidential Predictor" card set. The illustrated parodies show several of the top candidates in rare form by tying each one of them to a pivotal moment or personality from baseball's rich history.
"This was a unique concept developed to bring some timely and very topical humor to our first baseball card product of the season, " said Kerri Stockholm, Upper Deck's director of Sports Marketing. "We think the cards are entertaining and we're hopeful that the candidates will also get a kick out of their cards."
The candidates' cards, inserted at a rate of 1:8 packs in Upper Deck's 2008 Series One Baseball release, are hitting store shelves now. So with the Presidential election heating up and MLB Spring Training games scheduled to start in less than three weeks, the timing couldn't be better.
Notable names in the "Presidential Predictor" set include, from the Democratic side,
Barack Obama
and
John Edwards
; and from the Republicans:
John McCain
, Mitt Romney,
Rudy Giuliani
and
Fred Thompson
. A few other surprise candidates and political personalities are also showcased in the collection including
Al Gore
being tagged out by reigning U.S. President
George W. Bush
in a funny portrayal of Yankee second baseman
Chuck Knoblauch
's phantom tag of Boston's Jose Offerman during the '99 American League Championship Series.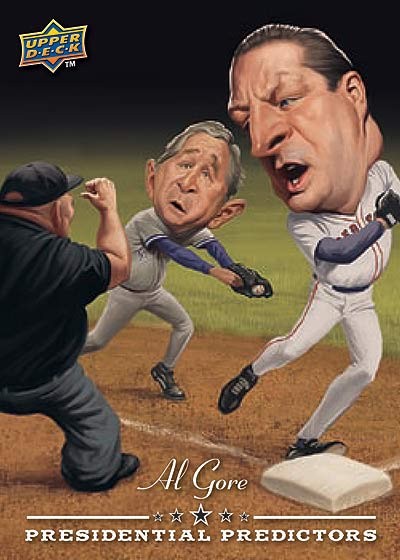 Other parodies include John McCain and
Ted Williams
, a pair of decorated war veterans who served their country proudly; John Edwards' portrayal of Archibald "Moonlight" Graham, both healthcare advocates, the latter who appeared as a right fielder in a single MLB game for the New York Giants (June 29, 1905); Fred Thompson blending with
Babe Ruth
, two larger-than-life characters who have appeared on the silver screen; and Rudy Giuliani as overzealous Yankee fan Jeffrey Maier whose infamous eighth-inning catch of
Derek Jeter
's long fly ball in Game 1 of the 1996 ALCS tied the score, 4-4, before the Yankees went on to win the pennant and their first World Series title since 1978.
After extensive review with key internal and external business partners, the decision was made to remove the original
Hillary Clinton
card from the set. Upper Deck's Vice President of Marketing Louise Curcio explained: "The subject matter of the original card was considered to be somewhat controversial, and could possibly be deemed inappropriate. It is important that all of the Presidential Predictor cards are both fun and humorous, but ultimately in good taste." Upper Deck is expecting to produce a new Hillary Clinton card in May inside its 2008 Upper Deck Series Two Baseball release, which will be numbered as part of the original "Presidential Predictor" set.
Collectors who pull any of the Presidential Predictor cards from packs will have the opportunity to win a trip for two to throw out the "presidential" first pitch at an official Major League Baseball game during the 2009 season. They simply need to type in the static code(s) found on the backs of the cards at
www.presidentialpredictor.com
to gain entry into an Upper Deck Baseball sweepstakes. The top prize will be open to all collectors who register the winning candidate's trading card. Each of the cards can be viewed at the
www.presidentialpredictor.com
website.
-
Enter to win a box of 2008 Upper Deck Baseball Cards which feature the "Presidential Predictor" cards!
About Upper Deck: Founded in 1988, Upper Deck is a premier global sports and entertainment-publishing company that delivers a robust portfolio of products for sports and entertainment collectors alike. For more information, visit www.upperdeck.com or www.upperdeckstore.com.