Upgrade: Meet the Artist Behind 'Sue Mac Miller'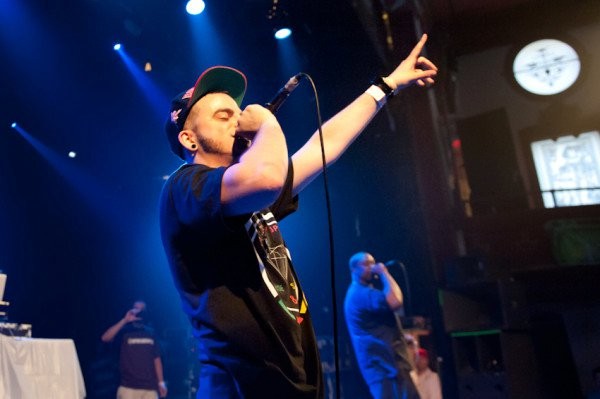 Hip-hop artist Upgrade is not actually suggesting that anyone sue Mac Miller, but his song of that name is garnering the up-and-coming artist plenty of attention. BFTV connected with Upgrade recently to ask him about the genesis of the track and what else he has on his mind.
"A lot of people, once you become a successful artist, suddenly everyone's coming after you for something," he said, explaining how he came up with the song that's now got the Internet buzzing. "It just came as an idea."
He already knew Miller beforehand. "I actually got to open up for him last year," continued Upgrade, who called Miller's Twitter response to the track "awesome. On the level that he's at in his career right now, just to acknowledge it shows a lot about that artist. To not think they're too big now, to give somebody just respect, it shows a lot about somebody like that."
Upgrade has a full release in the works, and was kind enough to chat about what we can expect when that drops. "If you've heard any of my music, this is going have a lot darker tone to it," he said, adding that has to do with "just a few things I've been through with the past year, [that] a lot of people, even if they know me, don't even know I went through. It's a lot more personal. This, I think, is going to show a different side."
"Anything I feel, I go through, I write about. I kind of treat my music as, I'm going to do what I feel is right and what's real and whatever I feel is the right thing to do, and I'm gonna hope that people [are] attracted," he continued. "You can't satisfy everybody. I'm not going to try to create my music so that this person likes it.
"I'm really just focused on being yourself, being real and honest, just making the music that you feel like you should be making and not thinking so much on how it's going to be perceived. I'd like to look back and say I never really went out of my comfort zone. I have no problem experimenting with music, but it's got to feel right."
Upgrade also weighed in on the perception of of white artists in the rap/hip-hop genre. "Really, at this point, I don't think it's as big of a deal as it was before," he said. "I think there are a lot of white rappers that are getting more recognition. Just [as far as] breaking any kind of stereotype, I think that's over for the most part."
Another misconception he wants to correct is that the genre itself isn't what it used to be. "I was trying to get away from commercial hip-hop because it wasn't something that appealed to me too much," he continued, adding that most of his favorite artists now are more underground. "People always say hip-hop's dead, but I actually think now could be the best time for hip-hop - you just have to search."
There won't be any more searching for him, though - Upgrade has definitely been found. Now he can wait and see if anyone comes up with a track about suing him.
The video for "Sue Mac Miller" is below, and you can check out more of Upgrade's work at his YouTube channel. You can also keep up with him on Twitter (@UpgradeHipHop).
(c)2013 Brittany Frederick. Appears at Starpulse with permission. All rights reserved. No reproduction permitted. Visit my official website and follow me on Twitter at @tvbrittanyf.