Up-And-Coming Music: Zerobridge

New York, NY - It's not often you hear about a band like
zerobridge
. Lead singer/guitarist and songwriter Mubashir "Din" Mohi-ud-Din and drummer Mohsin "Mo" Mohi-ud-Din are two brothers whose parents are from the disputed territory of Kashmir, nestled between northern India and Pakistan. "The Quota", seasoned NYC bass player, rounds out the trio who have been playing their own unique brand of melodic, guitar driven rock n' roll for the last three years. With two independent releases behind them, zerobridge will release the
Havre de Grace
EP this summer that illustrates the band's penchant for classic song writing and a passion to become the only band that matters.
The name zerobridge comes from an actual bridge in Kashmir's capital, Srinagar, which earned the lesser known epithet of the "the city of seven bridges." The story goes that when they built an 8th bridge, no one knew what to call the original first bridge. The solution is a case of pragmatics taken to the extreme: they decided to name it zerobridge. Along with being a provocative name evoking many meanings, zerobridge is a sentimental place for anyone familiar with Kashmir. Just across the bridge, after passing through military checkpoints and barbed wire fences, is a cafe called the Zero Inn; a place where the bothers, family and friends go when reunited in Kashmir to hang out and have "cold coffees" (which are like frapuchinos, but far better according to the brothers).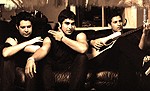 To describe the sound of a band as distinctive as zerobridge can be tough. Din constantly answers this question simply: "We're just a rock n' roll band." This is true, but upon closer listening one can hear their South Asian heritage weaving its way through their Western influences to create a unique musicality and tonality. While bands like
U2
, The
Beatles
,
The Clash
,
Joy Division
/
New Order
,
Bowie
and
The Replacements
are major influences, Din also cites South Asian music like The Sabri Bros and Hindi film composers like RD Burman, A.R. Rahman, and Nadeem Sharavan as inspirations.
The name and title track comes from a town in northern Maryland, close to where the brothers grew up. "It means Harbor of Grace," explains Din. "I always just loved the sound of it and what it could mean. The tune itself sounds fresh and defines who we are right now and where we have been as a band. I think it's the best thing I've written to date and the band's best performance." A video accompanies the track, directed by Musa Sayeed, who won the best documentary short at 2007's Tribeca Film Festival for "A Son's Sacrifice."
Other songs on the EP include "Late Bloomer," a soaring track that celebrates and questions a passionate but fleeting relationship. The incendiary political satire of "The Shake" sheds light on the hypocrisies of religious extremism. A reworking of "Suffering Moses," originally off the bands first LP, is an unabashedly beautiful ode to Kashmir which is followed by the razor edged bravado of "This is My Version," a live favorite that sounds like a mashup of the Smiths and the ragged snarl of Iggy Pop. Mo passionately adds, "No gimmicks. We put our hearts, souls and sweat into whatever we do. It's about love, war, and curiosity I suppose. It's just painfully true, good rock n' roll.
Zerobridge will release their debut EP,
Havre de Grace
, on September 18.