Up And Coming Music: The Soul-Sational Pairing Of Bubbles & Cheesecake

As with any great duo, the soul-sational pairing of
Bubbles & Cheesecake
is a delicately balanced tightrope act - two distinct elements in a yin-yang harmony that enhances its partners' similarities and orchestrates their contrasts. Think of
Ella
&
Duke
,
Lennon
&
McCartney
,
Sam & Dave
, peanut butter & jelly - new power flows out of their togetherness.
As cool as that complementary magic is for Renaissance woman/multi-media artist Allee Willis - a GRAMMY-winning, Emmy and Tony-nominated composer whose songs have sold over 50 million records including
Earth, Wind & Fire
's "September" and "Boogie Wonderland," the
Pointer Sisters
' "Neutron Dance," the theme to
Friends
and the Broadway smash
The Color Purple
- and singer-songwriter Holly Palmer - formerly with
Gnarls Barkley
live band who's also worked with
David Bowie
,
Dr. Dre
and
Michael Bublé
- it went to a whole different level when their respective alter egos, Bubbles the artist & Cheesecake, joined the party.
When that happy convergence first became a possibility, it just so happened that Willis had been looking for the right next project for Bubbles the artist, who she'd "discovered" in 1999 - and who has sold nearly 1000 works of art since. And Holly had, serendipitously, recently acquired her own alter ego. While listening to hip-hop and rhyming about food, she did a flow on dessert that inspired her husband to call her "MC" Cheesecake. A fearless and funky quartet was born.
"It really is a four-way collaboration," say Willis and Palmer, explaining, "Allee and Holly really know how to make records, and Bubbles and Cheesecake really know how to have fun." "They're not characters," says Palmer, "they're that side of yourself you're not sure you wanna show, lest people judge. So, here's my alter ego to let it out and handle what I wouldn't." Willis adds, "it's part of a whole global vision for Bubbles & Cheesecake, which is about wanting people to feel empowered to express themselves and embrace their individuality."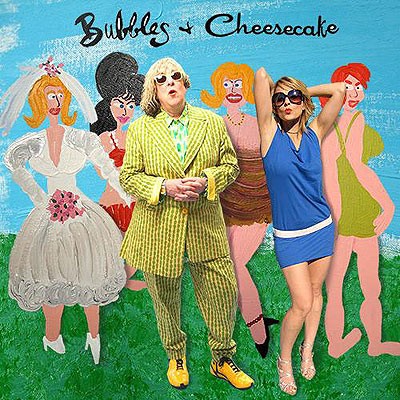 Allee and Holly and Bubbles and Cheesecake fully revel in theirs through
The Soul Of Bubbles & Cheesecake
, their all-new, totally integrated soul-kitsch fusion of completely hand-made music, video, art, blogs, stories, games, animation, social networking and creative merchandising. Their creations inhabit a parallel virtual universe accessible through www.bubblesandcheesecake.com, a hub of addictive fun and rampant interactivity that's fueled throughout by a purring engine of funky, soulful music. It's an alternative entertainment and lifestyle experience that's been called "the soul man's Martha Stewart."
It all grew out of Allee and Holly's intermittent songwriting partnership, which began in 2000. "I heard her demo and loved her voice," says Allee, adding "Holly is someone who's always on the high wire, and that worked for me - I don't write songs and then go record them, I go on mic and see what happens. She fell naturally into that. I thought, 'Oh my god, this is incredible.'" Palmer was knocked out by their connection as well. "For me," Holly says, "being around Allee is very inspiring. She's an artist who is entirely self-determined. Her soul is speaking all the time."
When they regrouped in late 2006 to record at the multi-media studio in Willis' historic art deco home - a space that none other than
James Brown
once called his favorite studio in L.A., and where the Tony-nominated music & lyrics for the Broadway smash
The Color Purple
were composed - what started out as sessions for Palmer's latest solo album Songs For Tuesday instead emerged as the winning recipe for
The Soul Of Bubbles & Cheesecake
. Contemporary and infused with classic soul grooves, the songs flowed out and were artistically freeing to Willis and Palmer from the start.
The music provides a powerful entry point for the expanding vision of the larger Bubbles & Cheesecake experience, including the irresistibly funky debut anthem "It's A Woman Thang." B&C's soulful mantra is imparted with a liberating lyrical manifesto, sizzling grooves and an accompanying video introducing Bubbles and Cheesecake and their outrageously original world. As one example of bubblesandcheesecake.com's dense interactivity, the video features 60 animated women, all cut from paintings by Bubbles the artist (whose original artwork and fertile imagination inspires all of the web-site's visuals). Each character has her own web page, and the women also act as site guides, linking to a wealth of info on Allee, Holly, soul and kitsch. Every step of the way, site visitors have the opportunity to participate in and comment on the flow of information and ideas, as well as to create music and art with Bubbles & Cheesecake.
Other B&C music tracks include "I Confess," "Cryin', Lovin', Leavin'" (co-written with the legendary Lamont Dozier, who's featured on background vocals) and "Girl In Lust." Ultimately, these and more slabs of B&C's homegrown backyard soul will be compiled into a series of singles with matching visual interactive components - all songs and videos will be offered as downloads. In an innovative twist, users can also download the musical elements that score the site, priced by the second, with a 10-cent minimum and 99-nine cent ceiling.
The sweet punch of the Bubbles and Cheesecake aesthetic and celebration of unadulterated creativity and self-expression comes from its smooth blend of equal parts sock-it-to-me soul and signature pop kitsch. All creative elements and merchandise, both real and virtual, are conceived and hand-executed by its fearless leaders, including: composing, singing, playing and producing the music; painting the site's original artwork, photographing other components and animating all the visuals; writing the text that communicates the mythology of Bubbles and Cheesecake and their world; designing related lifestyle products; and building the web-site itself.
As Cheesecake says, "we want to inspire an army of citizen artists." Bubbles continues, "In our view, the road to self esteem is through creative expression. We hope to actually collaborate with our fans to make music and art. Our intent is that Bubbles & Cheesecake be not only an actual look inside the creative process, but an active test ground for what music and art will become in a 21st century interactive world."
Watch 'It's A Woman Thang':
Beyond eye-popping visuals, bubblesandcheesecake.com's innovative web interface marries a novel use of lo-tech sensibilities with a complete understanding of interactivity on a visionary level, based on an architecture that's built to grow. It's made possible by Willis' legacy as a seminal cyber-pioneer who consulted for Intel, Microsoft, AOL, Disney, Silicon Graphics and other companies starting in the early '90s, and addressed Congress on artist rights in cyberspace in 1997. Allee conceived Internet realms back in the days when "new media" was an unknown term, and throughout most of the 90's, she and partner Prudence Fenton developed willisville, an evolving prototype for the first entertainment-driven social network. In 1994, willisville's CEO was Internet icon Mark Cuban. Throughout its existence from 1992-1997, the company was acclaimed by Fortune Magazine, the Wall Street Journal and the New York Times. Willis' merging of narrative frameworks and multiple technologies and platforms into a cohesive thematic environment is the archetype for bubblesandcheesecake.com.
Willis and Palmer are uniquely qualified to be the divas of this soul-kitsch revolution and interactive domain. Soul music has been a lifelong inspiration for both women, something that's passionately clear through their extraordinary music. Beyond that, Allee Willis owns one of the world's largest assemblages of kitsch, including impressive collections of 20th century African American artifacts and carefully preserved pop culture and soul ephemera. It's all housed in her architecturally significant Streamline Moderne home - built as the party house for MGM in 1937 - and much of it is featured at
bubblesandcheesecake.com
.
The visual riches created by Bubbles - with assistance from Cheesecake - for the new website, videos, packaging, merchandise products and other collateral are as handmade, spontaneous and soul deep as the songs. It should be noted that before branching out into music-making with Cheesecake, Bubbles had earned worldwide renown - and an official commendation from the City of Los Angeles - for her contributions to the Arts, including paintings, ceramics and web design. Her creations evoke, "a time when things were simpler, clothes were louder and Life was damn good," says Bubbles' "manager" Willis (who, before copping to having an alter-ego, was rumored to actually be Bubbles by the New York Times). With an online store selling far more than media downloads, bubblesandcheesecake.com makes it possible for everyone to own a little bit of Bubbles' genius through an eclectic B&C-branded product line featuring t-shirts, BBQ aprons, greeting cards, paint-by-number kits, placemats, bathmats, afro piks and other essentials.
Willis has said, "I would describe my style as a blend of the highest tech and design and the lowest kitsch." That formula now ushers in the Bubbles & Cheesecake era - achieving world domination with a refreshingly alternative and dazzlingly interactive music, entertainment and lifestyle approach…and perhaps a few nice hand towels thrown in.
Listen to three tracks from Bubbles & Cheesecake:
Woman Thang
-
Quicktime
|
Windows
Girl In Lust
-
Quicktime
|
Windows
I Confess
-
Quicktime
|
Windows
(Streaming audio and/or video links may expire without notice)