Up-And-Coming Music: Lucy Walsh

Having grown up in the distant, yet deep shadow of her famous father,
Joe Walsh
, a longtime member of
The Eagles
, songwriter/musician
Lucy Walsh
is finally spreading her own creative wings.
With a debut album in the works, the twenty-four year old surprises audiences by being a grounded and gifted artist in her own right. Her maturity seeps through her lyrics which spring more from self-awareness than star lineage.
A native of Santa Barbara, California, Walsh was only a toddler when her parents divorced. She was raised by her mother and step-father, who encouraged her creative development. By the age of five she knew that performing was her passion. Luckily, her talents were not only nurtured at home, but also at the alternative, European-style Waldorf School she attended. "As a child I watched no television, and all my toys were wood or cloth," recalls Walsh. In her teens Walsh studied classical ballet and to this day she still has daily lessons with a private coach to study classical piano, voice, and music theory.
Aside from the more ethereal artists like
Sarah McLachlan
,
Tori Amos
and
Enya
, Walsh was inspired early on by the 1980s pop wave, especially
Cyndi Lauper
. "I remember being three years old, listening to 'True Colors' and crying my eyes out," says Walsh. "I was overwhelmed with joy, but my mom thought I was sad and threatened to take it away unless I stopped the tears. Now that I'm an adult, many people compare me to Cyndi in terms of colorful personality and quirkiness, and I have no doubt that I was subconsciously shaped by Cyndi as a performer."
Leaving the comfort of her Malibu home at the age of eighteen, Walsh moved to Hollywood and supported herself while networking with other young musicians. She became friendly with
Ashlee Simpson
who was impressed by her keyboard and vocal talents and asked Walsh to tour with her band in September 2004. Ashlee also helped introduce Lucy to national television audiences through MTV's
The Ashlee Simpson Show
. After a year playing keyboards on Simpson's Autobiography tour, Lucy decided it was time to focus on her own music.
After a series of New York showcases, Lucy landed a deal with Island Records, which will release her debut album
Lost In The Lights
.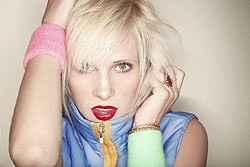 The diminutive 5'2" Walsh, with her blonde-haired, green-eyed charm, has already developed an excited and loyal fan base, as evidenced by the many enthusiastic supporters on her
MySpace page
.
Having written or co-written close to 70 songs, including many with other Island Def Jam artists, Walsh and the label are now cherry-picking the very best for her album, a pop/rock amalgam liberally flavored with electronica. "Blending organic with synthetic sounds has always appealed to me, and when I began recording these songs, that's the approach I naturally took."
Having grown up in the wings and front rows of Eagles concerts, it was natural that Walsh would have an ear for rich harmonies. She brings not only those harmonies, but also thoughtful lyrics, to every one of her songs. She sings about a friend warped by celebrity, relationships in the public eye, and the realization that a lover has cheated. Others songs bring a third-person perspective to sorrow – a young woman left at the altar, a parent's pain over losing a child barely out of his teens – yet Walsh also pens songs that express achingly joyful passion and uplifting hope. It is from this trove that her debut album will take form.
Knowing first hand the adulation that has followed her father's long career, Lucy Walsh is committed to music, not for the starry-eyed fans, but for the ability that music has to express universal experiences and to inspire people to reach for their dreams. "Those who get into this business for the fame are in for a bumpy ride, and probably a short one," she says. "If you are not passionate about the music, you have no right being here, because it's a lot of hard work! I've planned for this moment for the past twenty years of my life!" With that intense passion for music, and the necessary drive for success, the moment that Lucy Walsh has been waiting for has finally arrived.
Listen:
Crash:
Flash Hi
|
Flash Lo
|
Real Hi
|
Windows Hi
|
Windows Lo
So Uncool
(Streaming audio and/or video links may expire without notice)