Up-And-Coming Music: Critical Bill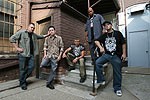 No formulas, no fashions, no formats. Detroit-based urban rock outfit,
Critical Bill
, is a band loved by thousands of fans for being what it is. Real. Since its start in 2002, Critical Bill has brought its powerful blend of dirty rock guitar, rap influences and hip hop beats to radio stations nationwide including hometown stations WRIF and WTDW and to countless live audiences all over the U.S. and Canada - and continue to do so on their latest release,
Downtown the World
.
The band built a massive following headlining shows and touring extensively with the formidable "Kansas City Rap King"
Tech N9ne
. They've also shared stages with
DMX
,
Uncle Kracker
,
Puddle Of Mudd
,
Hed PE
,
Dope
, and
Mushroomhead
, among others. Within the last eighteen months, the band has played 300+ shows, to more then 250,000 people, with no end in sight.
So it was no surprise to the band that their 2006 independent full-length CD
313
quickly sold more than 13,000 copies with no real promotion or marketing, although it might be a surprise to the rest of us.
"It all started for us in Detroit," recalls Scott. "We would be out seven days a week promoting the band including passing out flyers and CD samplers. People's awareness of the band grew exponentially over the course of a year. Then we started opening up for a lot of national bands that would come through - one being Tech N9ne. He has a tremendous fanbase with very little video or radio play. We did a show with him in Detroit, and he just loved it."

Soon, Tech N9ne and Critical Bill became inseparable. "That turned into 200 shows. We toured all across the U.S. with him several times. It was really cool, because his audience is very young and open-minded and we were the only 'band' on a whole hip-hop tour. We had to win audiences over every night - no one knew who we were, and they definitely weren't expecting to hear loud guitars and drums. As we started crossing the country - two, three, four times - people came to expect to see us with Tech." Soon after, Critical Bill signed a deal with funk pioneers Westbound Records (
George Clinton
,
Funkadelic
,
Ohio Players
) in joint venture with SMC Records (
Pastor Troy
, Mistah Fab) to release "Downtown The World."
From the heavy blast of the first track "This is Critical" to the smooth melodic truth of "Here I Am," the album covers a broad spectrum of musical styles. "We've done many interviews on hip hop stations where the stations are playing our music," Scott says. "And they don't understand why people get it. It doesn't sound like everything else that's on the radio. They say 'I don't know if we can play this.' Then they play it and all of a sudden the phones light up. That's dope."
Yeah, Critical Bill has a hip hop and rap element that demands the energy of a rock band, but they are not to be confused with fad groups that have faded under the label "rap rock." As Scott so eloquently put it, "That's like comparing apples to hand grenades."
Critical Bill is Bryan "Powerdise" Davis (vocals), Michael Scott (7-string guitar), Mark Causley (Drums), Phil Thacker (bass), DJ Tom Sawyer (Wheels of Steel).
The Band's debut will be released on Sept. 18.