'Up All Night' Recap: 'The Proposals'
When I first saw in the previews for the "Up All Night" season finale that Kevin returns to propose to Ava, which prompts Chris to RE-propose to Reagan, I let out an audible groan. However, by the end of "The Proposals," I may have let out an audible sniffle or two. And there may have been something in my eye, causing it to leak fluid. Let's get this straight: I WAS NOT CRYING. But I will admit that, for a somewhat flawed episode, it managed to end on a truly sweet note that acted as an antidote to my elevated levels of cynicism.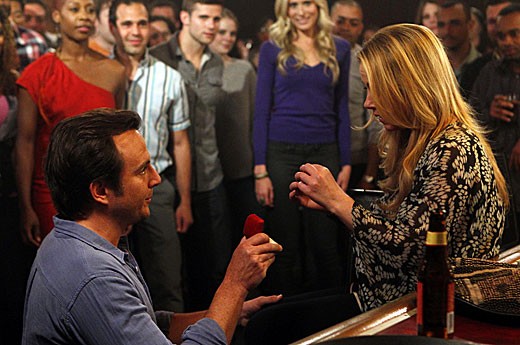 When Chris and Reagan recount their engagement story to unlikely dinner companions Gene and Terry, it's revealed that Reagan ruined Chris's plan for a big, romantic proposal by interrupting the moment and proposing to him—the result of many drinks and "Total Eclipse of the Heart" blaring from the jukebox. It's clear that this is something that's always bothered Chris, but he's probably never said anything because, hey, he got the girl, right?
So when Reagan realizes that her too-loose engagement ring—which Chris had made from his Gammy's earring—was lost, it's immediately obvious that Chris took it and plans to have it resized as a surprise for his wife. Knowing this makes the whole sub-plot with Reagan visiting "Gammy" (Marion Ross) to retrieve the other earring feel even less funny and more pointless. Of course Gammy is a sassy, wise-cracking old lady. Of course Gammy hates Reagan for undisclosed reasons. Of course Gammy relents when she realizes (eight years later) that Reagan really loves her grandson. As much as I like Marion Ross, I couldn't wait for this tangent to be over. WE ALL KNOW CHRIS HAS THE RING. COME ON!  
It's also hard to swallow Kevin's return, which is as unexplained and abrupt as his departure was. After Chris grows weary of Ava using him as a surrogate bug-squashing boyfriend—and after awkwardly walking in on her naked—he decides that it's time to get Kevin back. And he does. Like, quicker than it would have taken him to go to the store for a loaf of bread. He just shows up at Ava's office with Kev in tow. Perhaps thrown off by this sudden return herself, Ava tells Kevin that she's over him and wants him to leave.
The episode finally starts to pick up after this point, as Chris takes Kevin out so he can unwind with some "pretty hostile line dancing." Advice comes from the least likely source: Julian, who convinces Kevin that he can win back Ava with a grand gesture that will "re-write history." Kevin decides to propose, in turn inspiring Chris to re-write his own history with Reagan and finally propose the way he always wanted to. And guess what? It'll be especially easy because has her engagement ring!
Chris asks Reagan to meet her at the same bar where she proposed to him. Having had the replacement earring made into a ring, she plans to do it all over again, until she hears the familiar strains of Bonnie Tyler on the jukebox and notices Chris doing something that he did that night eight years ago—fumbling with his pants pocket. Finally realizing that she had ruined his original proposal, Reagan the control freak actually takes a backseat and lets Chris drive this time around. But he doesn't go down exactly the same road as before. Instead, he's planned a flash mob to help him serenade Reagan with "Total Eclipse of the Heart" before presenting her with her "lost" ring—not only resized but also re-set to include Amy's birthstone. Reagan and I are both verklempt.
As for Kevin's proposal, perhaps it's that he proposes to Ava while she's in her "cozies" or that he suggests their song could be something by Metallica, but Ava realizes that they should probably know each other better before taking such a big step. They both agree that not wanting to lose each other isn't a good enough reason to be stuck with each other forever, and seem to be content to just be together again. So, are they officially back on as a couple? Who knows. Let's hope that Jason Lee sticks around, and that we're not greeted in Season 2's premiere with a matter-of-fact statement that Kevin died in a bizarre hunting accident.
I apologize for missing a few of recaps during the season, especially because a couple of the ones I didn't do were for really good episodes. "Up All Night" has definitely found a groove and I've enjoyed this first season. I can't imagine that it won't return next season, so I'll be looking forward to it. 
Grade: B
Random Thoughts:
• I liked the idea of bookending the season with Reagan and Chris partying much too hard and paying for it the next morning.
• Although Chris doing movie voiceovers for Ava wasn't specifically an "Arrested Development" reference, I couldn't stop hoping that Will Arnett would throw a "with club sauce" in there.
• Even better than Bed was Julian's newest club, Class—a former Sylvan Learning Center transformed into a sleazy sex-ed themed pick-up spot.
• Best quotes:
Gene: "Because it's our anniversary, I'm gonna go ahead and get our two meals."
Ava: "Just for the record, you caught me at my most hirsute. It's not the summer months."
Ava (to Reagan, about Chris): "He's perfect. When you die, he will be mine. But don't worry; I'll wait six months out of respect and I'll keep a photo of you on top of the piano."