'Up All Night' Recap: 'New Boss'
After a string of really well-written episodes (including last week's "First Birthday," which must have been so good that I forgot to recap it), "Up All Night" hit a snag with last night's "New Boss." While there were some funny moments – mostly thanks to Will Arnett's awkward attempts at machismo – the story was all over the place and never managed to really go anywhere.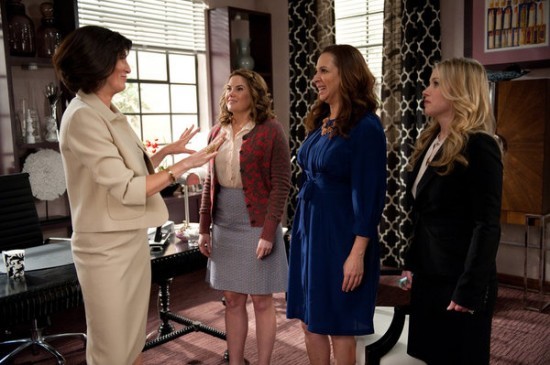 The first red flag signaling that this is a poorly scripted episode is the announcement that Kevin (Jason Lee) moved to Idaho for a new job – an important tidbit that was revealed so matter-of-factly that I started to wonder if I had actually missed an episode.  I hadn't. Either the writers got lazy, or Jason Lee got a last-minute gig that left them no time to properly write him out.  It remains to be seen if he's gone for good, but enough emphasis is put on Ava's struggle to move on that I'm guessing he either is or he'll be back just in time for a sweeps week love triangle.    
One bright spot in Ava's life – and in Reagan's – is the news that Ava has been taken over by their "lady business idol," the charismatic Yvonne Encanto (Eve Best). Ava and Reagan are thrilled to have their first meeting with Madame Boss Lady, but once Yvonne whips them into a female frenzy, she dumps them off on her right-hand man, Luke (Steven Pasquale). Young Luke rubs Reagan the wrong way right off the bat ("I don't want a man in my lady business!"). The two engage in a power struggle that comes to a head when Luke rejects Reagan's budget, which had included her favorite coffee, and the lack of caffeine eventually causes her to do a very un-Reagan like thing: break down in tears in front of her new boss.
Meanwhile, Chris is trapped at home with a broken down car and absolutely no knowledge of how to repair it. So, when fellow non-tinkerer Reed (returning guest Will Forte) announces that his recently deceased uncle left him an old motorcycle, the two dudes decide to try to fix it together. Since Chris's toolbox is full of allen wrenches and soy sauce, the guys go out to buy tools, but return with only sweet helmets and a lot of leather.  Chris and Reed embrace their newfound beastness, but of course Gene has to ruin everything by showing up with his tools and understanding of mechanics. What a loser.
While this storyline is much more engaging than the Ava/Reagan/Luke work stuff, it's certainly not cutting edge humor. I mean, the first time Reed tries to take the motorcycle for a spin, he wipes out before even leaving the driveway. Who didn't see that coming?
When a tearful Reagan calls to complain about mean ol' Luke, Chris finally finds the balls to ride the hog, and he slowly drives to the studio to go all tough guy on Luke. As a former soldier, Luke isn't exactly intimidated, but he does start to feel a little bad for Reagan for having to live with Chris. The two finally have a chat and bond over a common trait: their overwhelming need for Yvonne's approval. They both get it and Ava's fifth anniversary show comes off without a hitch, which is more than can be said for Chris's too-tight leather pants.   
Grade: C
Random Thoughts:
• The writers should make a "My Name is Earl"-type list. It was a bad thing that they did to Jason Lee's character, and they really need to make it right with him…and us.
• I loved the unseen kid who kept driving by, yelling '80s references to the red leather jacket-clad Reed. (Hey, Michael Jackson! Beat it!" "Hey, Loverboy! Everybody's working for the weekend!" ) But I kept hoping for an Eddie Murphy "Delirious" shout-out (maybe, "Hey, Eddie Murphy! You dropped your ice cream!") that never came.
• Best quotes:
Reed: "Flipping people off is so beast."
Chris: "So beast! Is beast a thing?"
Reed: "Yeah, I heard some kid say it when I was gaming. It's the new 'epic.' And we can get in on the ground floor."
Luke:  "I don't want to turn this into some sort of 'who has the biggest vagina?' contest.
Ava: "That, my friend, is a great show idea."