'Up All Night' Recap: 'Mr. Bob's Toddler Kaleidoscope'
Even though the latest episode of "Up All Night" was filmed well before last week's recap, it somehow managed to address many of the issues I felt were keeping the show from being as good as it could be. As a result, this week's episode is the strongest so far.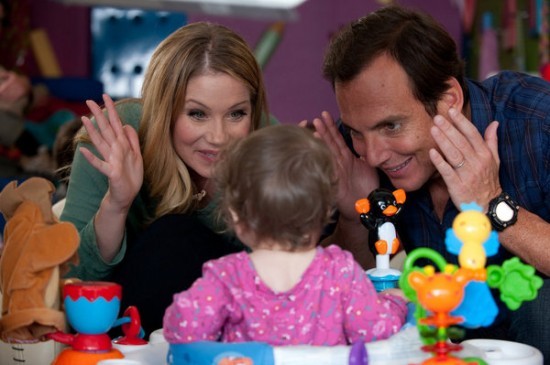 Last week, I suggested that "Up All Night" needed to focus more on Chris and Reagan's relationships—with each other and with their baby—and dial back Ava's over-the-top storylines so that they mesh better with the rest of the show. "Mr. Bob's Toddler Kaleidoscope" does just that by giving Reagan and Ava storylines that mirror each other: while Reagan worries that her work schedule is keeping her from spending quality time with Amy, Ava is upset that motherhood is keeping Reagan from spending quality time with her.
Reagan enrolls Amy in a child development class run by Mr. Bob (Michael Hitchcock), some kind of baby wizard whom Chris immediately idolizes. After being taught the proper way to play peek-a-boo (his way had too much masculine energy), Chris positively thrives in the magical kaleidoscope world. Reagan, on the other hand, not only gets the stink eye from Mr. Bob when she shows up late for class, but also finds a rival in a woman known only as Kayla's mom (Missi Pyle), who seems to get off on making Reagan feel guilty for having a job.
Later, Reagan manages to fit in some girl time with Ava when they check out a transvestite Bangles tribute band (Manic Manday, fka The Dangles). But when Reagan calls it a night after one drink, explaining to Ava that her life is "evolving," Ava childishly gives a speechwriting assignment for a Zac Posen event (Reagan's fave designer) to her barely literate assistant, Missy.  
In the end, both of Reagan's conflicts are resolved with simple acts of kindness. Missy fesses up to Ava that Reagan actually wrote her event speech, a revelation that leads to the friends' reconciliation. And when Reagan spots Kayla's mom struggling with a very familiar model of stroller, her offer to help leads to a tag team beat-down of the infernal pop-up contraption, which serves as both a stress reliever and female bonding exercise.
This episode was such a vast improvement over last week, and I have to think that it's mostly due to keeping "nutty Ava" on the sidelines. Letting Maya Rudolph's kookiness out in small bursts is much more effective than keeping her at full throttle. For instance, the little moment where she couldn't figure out how to work anything in the car was really funny, and much more engaging than her "look what I'll go through to make your kid like me" routine from a couple of episodes ago.
For the first time in this series, Reagan felt like a fully-developed character, and Christina Applegate did a great job of bringing her to life. It was nice to see her finally walk away from Ava when she was being selfish and unreasonable rather than continuing to put up with her nonsense. It makes that friendship much more believeable, although I still can't figure out why or how they ever became friends in the first place. 
Chris continues to be dorky yet impossibly perfect, and Will Arnett was absolutely adorable in this episode portraying a man fully embracing his Mr. Mom status. I have to imagine that all the husbands of this show's female viewers despise Arnett for making them look like ogres by comparison.

And finally, we got to see much more of Amy! SO CUTE. Couldn't you just eat that baby up?
Grade: A

Random Thoughts:

• There really is a drag band called The Dangles, fronted by Tarzana Hoffs. Fantastic. 
• Will Arnett's masculine energy is just right. *sigh*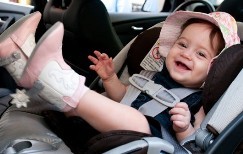 • Best quotes:
Mr. Bob: "Your peek-a-boos are a little aggressive."
Ava: "Before, we were just little fish creatures dragging our knuckles on the ground. Now, we stand tall and use tools to make fire and wheels."
Ava: "All the best, Amy, I love what you've done with your hair."
Chris: "Mr. Bob doesn't really like it a whole lot when parents go off-book."