'Up All Night' Recap: 'First Christmas'
This week, "Up All Night" rolled out its first Christmas episode. In the context of the series, and compared to sitcom Christmas episodes in general, it was a success.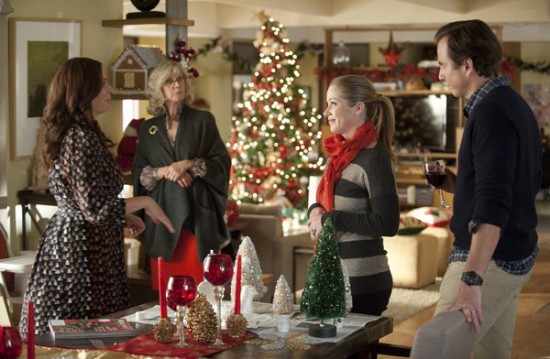 When Chris and Reagan stroll Amy by Gene and Terry's pimped-out "Winter Wonderland" yard display, the adorable toddler lights up like Rudolph's nose. (The reindeer, not Maya.) Upon seeing this, Reagan decides to deck her own halls to make Amy happy, despite her aversion to overblown holiday decorations. Of course, this brings Reagan's OCD-ness (which was in full effect last week) raging to the surface. Reagan's mom, Angie (Blythe Danner), arrives and tries to keep her daughter from going Clark Griswold on everyone, but Reagan is annoyed that Angie doesn't seem to understand that she just wants to give her own daughter the best Christmas possible. Angie proves that she does understand by driving back home and stealing her neighbor's rooftop Santa sleigh display, a gaudy, illuminated Christmas classic that used to thrill tween Reagan.  All this effort finally pays off when Reagan and Angie – trying to put up the sleigh by themselves – tumble off the ladder, making Amy squeal with delight.
While Reagan is turning the house into a holiday heaven, Chris finds himself in shopping hell. Having waited until the last minute to buy his wife a gift, he now has to brave the last-minute mall crowds in the hopes of finding Reagan a tennis bracelet encrusted with, as Ava says, "DI-o-munds." (Almost as weird as how Jenna Maroney says "cam-ah-RAH.") Although he seems defeated, he returns home with said bracelet, revealing that he got in touch with his inner psycho shopper and wrestled a pretty burly dude for it. Reagan totally flips for the bracelet and shouts something we all know, "My husband rocks!" Seriously, Chris DOES rock. Not only did he go to the mall on Christmas Eve to buy his wife a gift, but he also sold some of his belongings – including his prized Brendan Shanahan cardboard cutout – to get the money to buy it.
In the midst of all this is Ava, who is freaking out because her new boyfriend Kevin (Jason Lee) had to bail on their planned ski trip to spend Christmas with his ex-wife and their daughter. Since Kevin lives right across the street from the Brinkleys, Ava uses their home as spy headquarters, trying to determine if her new man is getting it on with his old wife in his non-existent hot tub. When the Brinkleys' house doesn't offer up a good enough view, she invades a neighbor's home, under the pretty funny guise that it's all part of a "surprise home makeover" show. (This plot point has to resurface later in the season, right?) Eventually, Kevin shows up at the Brinkleys to discover Ava's been stalking him all night, which doesn't seem to bother him one bit. It doesn't stop him from matter-of-factly announcing that he loves her, either. And Ava loves him right back. Aww.   
What immediately struck me about "First Christmas" was that although Reagan, Chris and Ava each got separate storylines, it never felt like too much was going on. Unlike some of the earlier episodes where it felt way too apparent that the writers were trying to bring Ava front and center, each character got equal time.  Also unlike some of the earlier episodes, Ava's plot didn't feel like it had been cut and pasted in from a completely different show. All of the action flowed together to form one nice, cohesive story.
I also liked that the writers avoided the urge to get too sappy, making what could have been another in the long line of "very special Christmas episodes." The heartwarming moments were nicely balanced with just the right amount of family dysfunction, penis sound effects, gyrating snowmen and the horror of Gene and Terry a-wassailing.
As is so often the case, Will Arnett was the best part of this episode. I enjoyed his sweet (albeit brief) conversation with Angie, in which she told him that he was a good man and didn't need to always "whip it out" (in this case, his wallet) to prove his manhood. His obviously flattered reaction to Angie's remark that she used to think he was just a "macho yahoo" was a hilarious, subtle reminder that this is a guy who has never stopped questioning his masculinity since becoming a house husband. And the whole deer-in-headlights mall sequence was just brilliant. Arnett does the "awkward, flustered guy" better than almost anyone.
My only real complaint about this episode was Kevin's declaration of love. It wasn't the most convincing "I love you" I've ever heard. If I were Ava, I might have asked, "Are you sure??" It seemed a little out of nowhere. But whatever…it's Christmas. Let there be love.  
Grade: B+
Random Thoughts:
• Dear Santa. Please leave a man like Will Arnett under my tree this year. Thank you.
• Best quotes:
Ava: "I feel like I'm being raped by a sleeping bag!"
Angie: "Is it me or is this snowman sexually perverse?"
Chris: "Ga-goosh? Oh, I'm sorry…that's a penis sound?"
Ava: "The holidays are so frustrating. That's why every year I pay a Southern gay to decorate my house."
Angie: "I don't know this Grinch you speak of. What is he, a Dickensian character?"
Female Shopper: "What's wrong with you?"
Chris: "So much! Everything."
Chris: "That was like an elf decoration that I hit, and not like a little man or anything? I think I heard it call out."
Reagan: "F**K YOU, everybody! My husband rocks!!"