'Up All Night' Recap: 'Couple Friends'
Although "Up All Night" took a bit of a wrong turn with last week's "New Boss," it quickly got back on track with this Thursday's "Couple Friends," which finds the Brinkleys on the hunt for that titular twosome they can actually tolerate.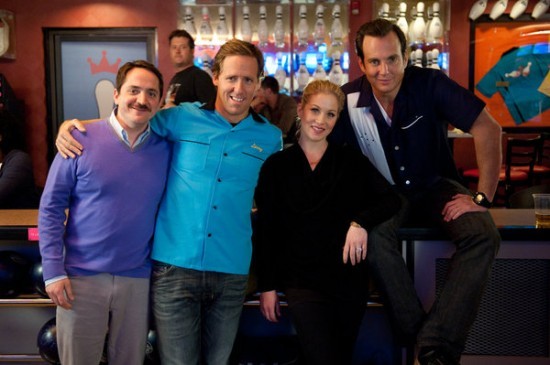 It's established in the cold open (in which Reagan and Chris futilely try to pump themselves up to go dubstepping with some hipster pals) that the Brinkleys are in desperate need of another age-appropriate couple to hang out with. Obviously, Gene and Terry are not an option. But it's while at that very boring duo's house for a neighborhood crime watch meeting that they meet gay couple Justin (Mr. Melissa McCarthy, Ben Falcone) and Lawrence (Oscar-winning co-writer of The Descendants, Nat Faxon). It's not hard to understand why it's mutual like at first sight; Justin and Lawrence are essentially the gay Reagan and Chris. Justin and Reagan share a mean competitive streak, while Lawrence and Chris share an affinity for lame '90s bands and vintage clothes that are already out of style again. 
On their first double date, the two couples hit the bowling alley, where Chris and Lawrence down beers and sing along loudly to the Spin Doctors, while the grown-ups (Reagan and Justin) talk. Just as it seems that this is a couple match made in heaven (there's even a suggestion of a Napa Valley weekend), Justin and Lawrence's team wins, which causes Reagan to ruin the evening with her standard sore loser routine.
Meanwhile, Ava is annoyed that Luke has been spending late nights working at the studio (blasting Bob Seger no less), which she takes as some sort of attempt to show her up. She's further aggravated when Luke doesn't invite her to a meeting/poker party with some Southern affiliates, assuming that a woman wouldn't be able to handle a bunch of rowdy, drunken bastards. Rising to the challenge, Ava crashes the meeting and her cigar-smoking, crass-talking routine wins over the affiliates and impresses Luke, who offers to take her out for a drink. While at the bar, Luke seems to make a pass at Ava, which pisses her off...until she discovers that he was only trying to make his ex-fiancee bartender jealous. Being recently brokenhearted herself, Ava softens to Luke, prompting her to later "rescue" him from another night of stalking his ex by storming into the bar and giving him a fake kiss.
Back at the neighborhood watch, Reagan and Chris bump into Justin and Lawrence, and Reagan apologizes for her behavior at the bowling alley. The foursome takes another stab at friendship by setting up a playdate at the Brinkleys' home, but it's soon revealed that Justin and Lawrence's son Foster is, as Chris puts it," an A-hole." After biting their tongues over the holy terror that's been let loose in their home, Reagan and Chris can't take it anymore and decide that they need to say something to the guys' about Foster's lack of discipline. Amazingly enough, Justin and Lawrence are quite receptive to the Brinkley's parental advice. But when they try to offer some of their own in return, Reagan shows them the door. And the search for couple friends continues...
Grade: A-
Random Thoughts:
• Steven Pasquale (Luke) is super cute. But I hope the writers aren't setting up Luke and Ava as the next Sam and Diane. I mean, come on.
• Best quotes:
Ava: "I can't believe I'm having to stand here and listen to a classic rock song about boys coming of age...Please God, do not describe the 'points' any further." (In response to the lyrics of "Night Moves.")
Chris:  "I love saying 'vino'."
Reagan: "We wouldn't want [Foster] to get too stimulated from throwing all of our stuff on the floor."