Unwritten Law Puts Out Second 'Greatest Hits' Album, "The Hit List," In Stores January 2nd, 2007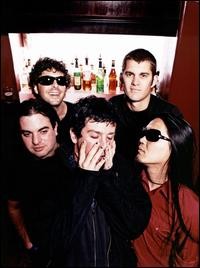 Pop-punk rockers,
Unwritten Law
are back with their career spanning greatest hits album,
The Hit List
— due in stores January 2, 2006. While most bands greatest hits album require very little studio time, Unwritten Law was more than happy to get back in the studio and re-record their hits. A few of the songs offer different arrangements that truly bring out the power punk feel Unwritten Law has made their staple. With so many hits to include the band used the songs that fans requested the most vociferously at shows.
Unwritten Law, the southern California based band started in 1990, but didn't hit the mainstream til 1999 with their hit singles, "Calin," "Up All Night," and "Seein' Red." The highly anticipated new album
The Hit List
will encompass 14 years of experience and all their hits from the last six albums. It will include 14 fan favorites and two new songs.