'Unpredictable' Nicki Minaj Calls Out Mariah Carey Over Added Security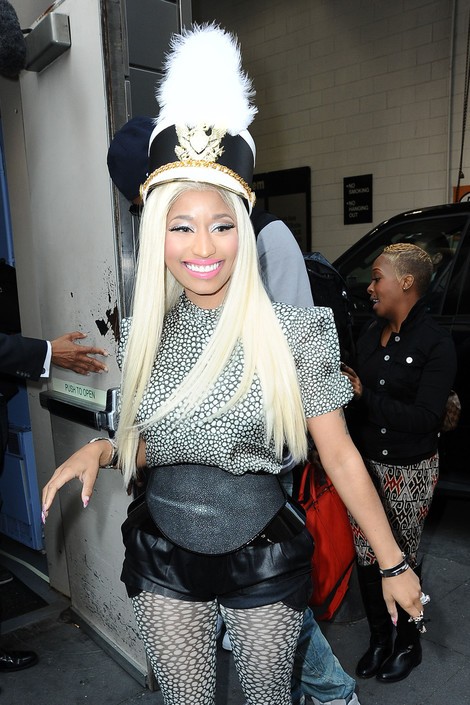 Despite reports that things were back to normal on the set of American Idol between judges Nicki Minaj and Mariah Carey after their catfight during Tuesday's auditions, there still seem to be some hard feelings off the set.

Nicki has now called out Mariah for stepping up her security team and adding some fuel to the fire after speaking to veteran broadcaster Barbara Walters over the phone on Thursday; saying that Nicki's unpredictability has caused her to fear for her and her childrens' safety on the set.

Walters reiterated Mariah's story on her morning talk show The View; revealing, "[Mariah] said when Nicki walked off the set, multiple people heard Nicki say, 'If I had a gun, I would shoot that f---ing b--ch...' [Maria] said she was very concerned, she was with the twins, she doesn't feel that anything would happen, but, 'Nicki is unpredictable'. Mariah says she can't take a chance and she has hired extra security."

Idol's executive producer Nigel Lythgoe said the death threat story is "absolute rubbish"; and Nicki says it's all just a PR stunt to gain public sympathy.

"Hey yAll. Lets just say nicki said smthn about a gun. ppl will believe it cuz she's a black rapper... I'll then hit up Barbara n milk it... Ironically no camera or mic heard the gun comment tho..." she said via her twitter page. "Not even the producers believed u. Say no to violence barbz..." (barbz are Nicki's fans).

In addition to calling out Carey for stirring up controversy, Nicki also bashed her for sharing her story publicly -- and then went on to give herself a pat on the back (that sounds a lot like she's having delusions of grandeur).

"I don't call tmz n Barbara Walters cuz I stand on my own two feet. Never needed an army. God is good. Insecurity is as cruel as the grave. I guess it hurts 2 have the producers tell u to ur face that nicki is the best judge we've had since simon (Cowell). Awww, poor u. Keep them lies cmn."

Nicki then reveals that she though everything was water under the bridge after having a good day on set Wednesday, after which Mariah called Walters.

"Tried to keep quiet but let's go!!!! I thought we resolved it yesterday but I see u want ur pity party to continue..." she adds. "All I do is compliment u. That's not enuff (enough)? Ur a legend, cheer up."