Universal's New Blu-ray & DVD 'Flipper' Discs Feature The 'Bourne' Trilogy

Universal Studios Home Entertainment has introduced dual-format discs containing both Blu-ray™ Hi-Def and DVD versions of some of Hollywood's most iconic films. An industry first, the new "flipper" discs will launch on January 19 with the blockbuster superspy thrillers
The Bourne Identity
,
The Bourne Supremacy
and
The Bourne Ultimatum
, starring
Matt Damon
, premiering as individually packaged Blu-ray™ discs.
For the first time ever, consumers will have the ability to choose between Blu-ray™ and DVD formats, simply by flipping a single disc. With complete utility in one convenient package, the revolutionary medium can be used on any DVD or Blu-ray™ compatible player, game platform or computer, making it ideal for anyone planning to upgrade to Blu-ray™ at a future date as well as current owners of both Blu-ray™ and DVD systems.
The release will mark the first time the Bourne trilogy, one of the highest grossing action movie franchises in history, is available individually in Blu-ray's™ renowned perfect picture and purest digital sound. Each film is accompanied by an array of exciting bonus features that plunge viewers deeper in to the shadowy world of international espionage, including top-secret files, challenging strategy games, fascinating filmmakers and actor profiles, commentary, deleted scenes and Universal's renowned BD-Live™ functionality.
Riddled with deception, intrigue and high-octane thrills, each chapter of the globe-hopping search for Jason Bourne's true identity raises the stakes another lethal notch as the undercover killer settles old scores and uncovers new secrets. A commanding roster of acclaimed actors accompanies Damon on his quest, including
Chris Cooper
,
Clive Owen
,
Brian Cox
,
Julia Stiles
,
Franka Potente
,
Joan Allen
,
David Strathairn
and
Albert Finney
.
"The Bourne Identity":

Jason Bourne, a barely alive amnesiac with a pair of bullet wounds in his back, is pulled from the Mediterranean by Italian fishermen. Bourne's only clue to his own identity is a bank account number etched on a capsule implanted in his body. He quickly finds the Zurich bank where money, a gun, and a few identification documents await, but after he's pursued by security goons at the American consulate, Bourne realizes he can trust no one and offers a German gypsy named Marie $10,000 dollars for a ride to Paris.
Encountering more professional killers bent on his destruction, Bourne discovers that he possesses a surprising degree of skill in combat, martial arts, and linguistics -- handy talents that clearly indicate his past includes work as a spy and assassin, but for whom? With Marie's reluctant help, Bourne edges closer to the truth, something CIA officials want concealed at all costs.
"The Bourne Supremacy":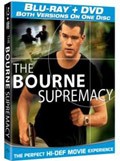 Jason Bourne has abandoned his life as a CIA assassin and has been traveling beneath the agency's radar, eventually reconnecting with Marie Kreutz, the woman he loves. But Bourne is haunted by vivid dreams and troubling memories of his days as a killer, and he's not certain how much really happened and how much is a product of his imagination. When Bourne is led out of hiding by circumstances beyond his control, he must reconcile his past and present as he struggles to keep Marie out of harm's way and foil an international incident with dangerous consequences.
"The Bourne Ultimatum":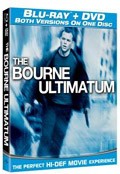 All he wanted was to disappear. Instead, Jason Bourne is now hunted by the people who made him what he is. Having lost his memory and the one person he loved, Bourne has only one objective: to go back to the beginning and find out who he was. Now, Bourne will hunt down his past in order to find a future. He must travel from Moscow, Paris and London to Tangier and New York City as he continues his quest to uncover the truth behind his mysterious past—all the while trying to outwit a new generation of highly-trained assassins as well as the relentless CIA operatives who will stop at nothing to prevent him from learning his true identity.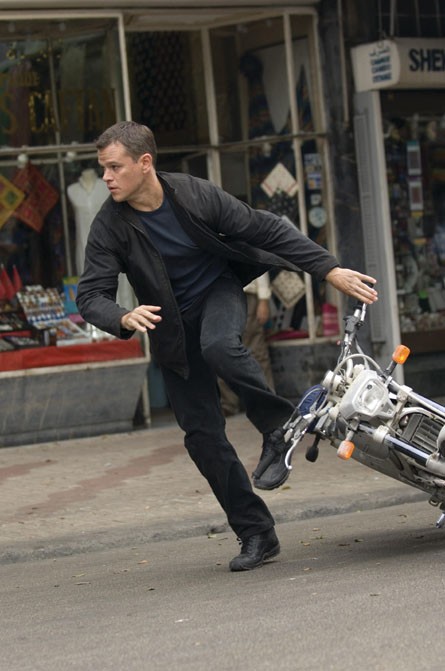 Image © Universal Studios