Universal Snags Rights To 'Dumb And Dumber' Sequel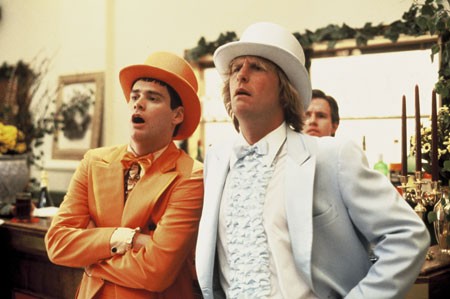 Shortly after Warner Bros. dropped the project, execs at Univeral Pictures snapped up the distribution rights to Jim Carrey and Jeff Daniels' "Dumb And Dumber" sequel, according to Deadline.com.
Both Carrey and Daniels have signed on to reprise their roles as bumbling duo Lloyd Christmas and Harry Dunne, and original writers/directors Bobby and Peter Farrelly are also on board.
Even though the project has been in the works for years at Warner Bros. subsidary New Line Cinema, execs dropped it following the poor box office performance of Carrey's most recent film, "The Incredible Burt Wonderstone."
The original cult comedy was released in 1994. It centers on stupid best friends Lloyd and Harry, who take a road trip to Aspen to return a briefcase full of cash to Mary Swanson, a beautiful woman who ends up being Lloyd's dream girl. The two get mixed up in a crime, and their wacky exploits lead the FBI straight to the crooks.
Sequel "Dumb and Dumberer: When Harry Met Lloyd," starring Eric Christian Olsen and Derek Richardson, was released in 2003.