Universal Pictures Confirms Return Of Paul Walker In 'Fast & Furious 7'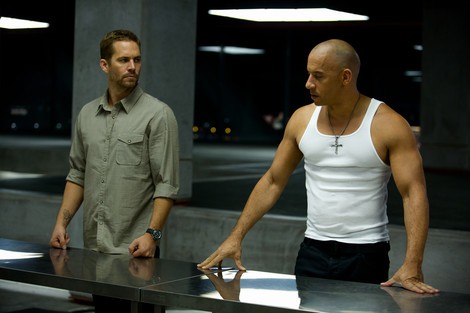 Paul Walker will be on the big screen at least one more time when he returns to the Fast & Furious franchise in 2015.
Vin Diesel leaked the release date and a production photo with Walker on Facebook, writing, "The last scene we filmed together…There was a unique sense of completion, of pride we shared… in the film we were now completing… the magic captured… and, in just how far we've come… Fast and Furious 7 will be released... April 10th 2015!"
"P.S. He'd want you to know first," he added later.
Universal Pictures confirmed the release date and revealed Walkers return in an official statement. Continuing the global exploits in the franchise built on speed, Vin Diesel and Paul Walker lead the returning cast of Fast & Furious 7, which will be released by Universal Pictures on April 10, 2015. James Wan directs this chapter of the hugely successful series, and Neal H. Moritz and Vin Diesel return as producers."
It remains to be seen how the film will deal with the tragic death of Paul Walker, especially considering he died in a car crash. Fast & Furious 7's production was delayed following Walker's death, but the new April release date is only nine months after its original July date. Reports claim only half of Paul's scenes were filmed, leading to rumors of the use of CGI or his brother to fill the void.