Unexpected, Untimely And Shocking Deaths In Music
October 12, 1997. Age: 53. Plane crash.
John Denver was born in Roswell, New Mexico, in 1943, which means he probably saw a lot of U.F.O. activity as a teenager, and perhaps that made him interested in flying experimental aircraft. Well, on October 12, 1997, Denver decided to take his
Long-EZ
experimental airplane (which had been modified for death by its previous owner) out in Monterey, California, and during his flight he ran out of fuel in one tank and had to switch a valve selector over to start the fuel flow from the second tank. Only thing is, the selector - once located nice and conveniently in front of the pilot and on the floor between his legs - had been moved to a spot behind his seat during the modifications to the plane. It's speculated that this contributed to Denver's demise as while trying to reach the valve selector he somehow pushed a pedal or knocked the flight stick with his leg and was unable to regain control of the plane.
- Click pic for next page -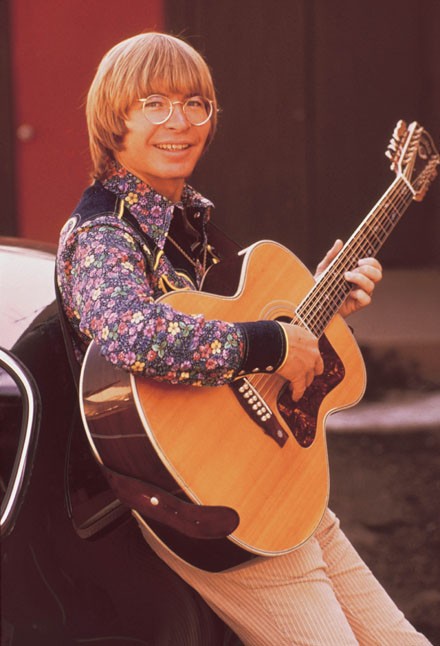 Image © Sony BMG Entertainment
September 13, 1996. Age: 25. Murdered.
Ironically, Tupac Shakur was named after a Peruvian revolutionary who led an uprising against Spain's occupation of his country. He was executed for doing so. The rapper Tupac was well known for leading his own uprising: through his lyrics, which focused on the problems of young black men and their conflicts with the police. He was also involved in gang warfare, which ultimately did him in. After a few altercations with a well-known west coast gang, the Crips, Tupac was shot multiple times while at a stoplight. He died six days later, pretty much the victim of an execution, like his namesake. But despite his untimely death the rapper has somehow managed to keep releasing albums and stay on the charts. In fact, he's released more posthumously than when he was alive.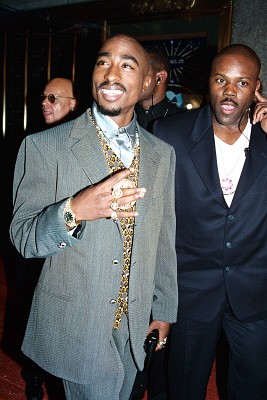 Image © Arlene Richie / Photorazzi
May 25, 1996. Age: 28. Drug overdose.
Bradley Nowell, lead singer and guitarist for
Sublime
, had it all going for him - a beautiful, loving girlfriend; a beautiful baby boy; and there was
no doubt
he and his band were about to break it big with their third album and first major-label release. Bradley was also a drug addict, but his girlfriend, Troy, grew up wanting to help addicts and stuck with him and supported him through all the ups and downs. She was dedicated to helping him get clean, but it didn't always work out. He spent time rehabbing and trying to kick his habits but often "fell off the wagon" and started using again. But then his son was born and he was determined once and for all to finally get clean. Nearly a year after their son's birth and shortly before the release of Sublime's self-titled third album, the couple decided to marry. Bradley had also fallen off the wagon once again, and just a week after his marriage - during preparations for their European tour to support the release - Bradley overdosed on heroin and died while getting into his bed. The remaining members of the band officially called it quits and the label nearly scrapped the release, but they ultimately put it out two months later, and it ended up selling over 5 million copies.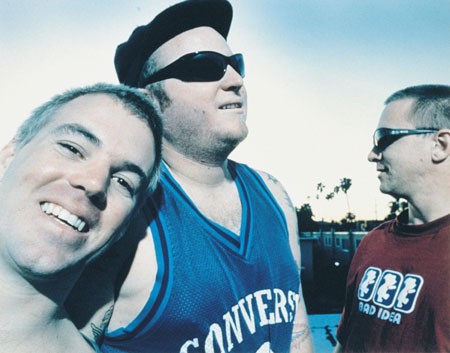 Image © Geffen Records
August 9, 1995. Age: 53. Heart attack.
The beloved lead singer for the
Grateful Dead
, singer/songwriter/guitarist Jerry Garcia had an affinity for the big 'H' - heroin. For years Garcia did the drug, and after an intervention by the rest of the band he went to a rehab center and entered a program. But then he was busted for drug possession before he even completed the program. It took slipping into a coma for six days in 1986 to convince him that maybe it was time to finally put the white horse back in the stable once and for all. However, he relapsed in 1989 while the band was recording their final studio album,
Built To Last
, which if you've heard the album, is understandable. Another intervention, another rehab stint, and another sickness followed in 1992 that was similar to the one that put him in a coma back in '86, man. Finally, in 1995, after touring and beating the living hell out of his body with drugs and food, he checked into the Betty Ford Center for a couple of weeks, and then went on to the Serenity Knolls treatment center after that for more help. But by then the drugs, combined with his weight problems, had taken their toll and Garcia died in his sleep of a heart attack.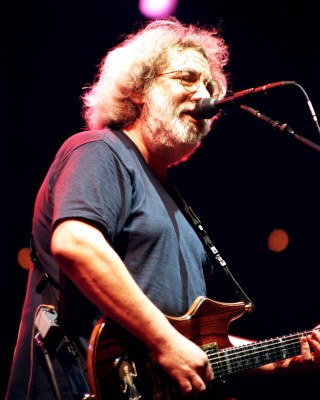 Image © Photorazzi
April 5, 1994*. Age: 27. Suicide.
Kurt Cobain pretty much single-handedly 86ed the good times everyone had with music in the 80s with his band
Nirvana
. The band pretty much turned the music world on its head and took the focus off of the bands living life in the fast lane on booze, women and cocaine and introducing heroin to the music world mainstream. And for some reason, everyone bought on to the idea that the only thing more fun than partying and getting laid was doing heroin or being miserable because you were out of heroin. Some say he was revolutionary, others say he was just a drug addict and that music was bound for change anyway. Suddenly the hard rocking hair bands became "don't wash your hair bands" and the music went from "let's go get laid" to "let's go get high." But for Cobain, years of ups and downs with heroin and dealing with his wife,
Courtney Love
(
just imagine if she had a blog back then
), would eventually lead to his death.
Kurt's downfall began while he was on tour in Germany and came down with bronchitis and laryngitis. Well, no, it began long before that when he realized how much fun heroin is; but anyway, Germany must've had a socialist medical system, so he flew to Rome to see a doctor of his own choice. Courtney joined him there and Kurt found some pills she brought. So he popped a whole bunch of them and downed some bubbly. This put him in the hospital for five days (Courtney claims it was a suicide attempt despite doctors denying that claim). Next, after returning home to Seattle, Kurt locked himself in a room to get away from Courtney because she's a total psycho. So she called the police and told them he had guns and drugs and was going to kill himself if they didn't come to the house and do something. Usually this sort of behavior occurs in trailer parks. But Kurt said he wasn't suicidal, despite having several guns and some pills with him. Then Kurt began taking heroin, after which Courtney rounded up everyone in his life and set up an intervention and ultimately Kurt was shipped off to rehab in California. But he hopped a fence the day after he got there and went back to Seattle. A week later Cobain's next suicide attempt was much more successful, as self-inflicted gunshot wounds,
Lana Clarkson
-style, usually are.
- Click pic for next page -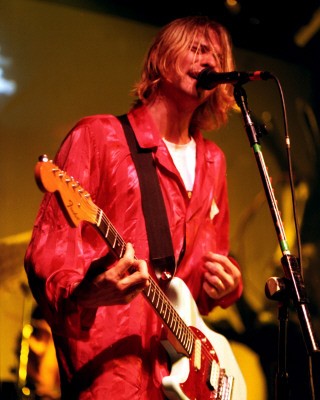 Image © Photorazzi
*Cobain was found dead on April 8, 1994, and was estimated to be dead for three days at the time his body was discovered.