Unexpected Celebrity Career Changes

In the celebrity world, career dabbling is a relatively common occurrence. Once a person has risen to celebrity status, they have easy access to the necessary resources, such as agents, publicists, and various other in-the-biz connections, that will allow them to change careers almost as often as they change their bed sheets - think celebrities like
Jennifer Lopez
and
Hilary Duff
who oscillate between being actresses and singers. Career changes like these are made especially possible in today's celebrity world thanks to contraptions like auto-tune, which has lead to the replacement of talent and skill with marketability as the key component in determining the success level of a celebrity career switcharoo. Most marketable celebrities are able to make relatively seamless career transitions. Yet, there are definitely those select few…ahem [cough cough]
David Hasselhoff
and his musical stylings…who are either down right mocktastic, or beg the question, "What the hell were they smoking?"
Both are the case with the two-time Academy Award nominated
Joaquin Phoenix's
decision to abandon his acting career in favor of morphing into a snappily dressed, rapping grizzly bear. There is a lot of speculation surrounding Mr. Phoenix's anomalous profession transition, however. When Joaquin first announced that he was going to scrap acting for hip-hop, most people drew the same conclusion: the boy is chock full-o-nuts, mm hmm. Yet after a recent Las Vegas performance, where Joaquin dazzled the masses as he spit and sputtered robotic rhymes from three songs from his upcoming album (not to mention the grand finale when he fell off the stage, which proves beyond a shadow of a doubt that hip-hop is in fact Joaquin's true life calling), it seems much more likely that Mr. Phoenix is pulling an elaborate
Andy Kaufman
-esque hoax.
According to Entertainment Weekly, Joaquin reportedly told a source, "It's a put-on. I'm going to pretend to have a meltdown and change careers, and
Casey
[Affleck] is going to film it." Apparently, Joaquin's motivations behind this alleged career swap are both to satirize pretentious actors and to prank the paparazzi. At any rate, whether Joaquin's rapping grizzly bear persona is for real or all for the sake of a Phoenix/Affleck mockumentary, either way it's pretty entertaining.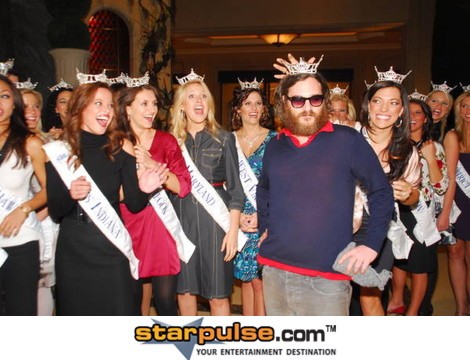 THE PALAZZO WELCOMES MISS AMERICA 2009 CONTESTANTS - The Palazzo Resort-Hotel-Casino - 1/17/2009
Virgil Wilson / PR Photos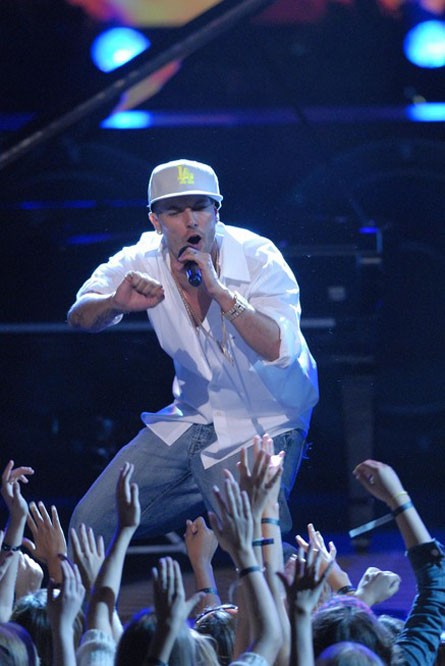 Now, while Joaquin Phoenix's outlandish career change may be a giant sized practical joke, other celebrities like
Kevin Federline
are very serious about their latest vocation endeavors. K-Fed, everyone's favorite former backup dancer/second rate rapper, is stepping up to the profession plate for the third time. Kevin is looking to redeem himself for his first two career strike outs with a hit as a children's clothing designer. That's right folks, the former Mr. Britney Spears is going into the tiny tot costume business. Kevin's design plan hasn't been set in stone yet, but according to the MTV Newsroom, Kevin has been chatting up fashion executive Gerard Guez about the launch of his proposed line of children's clothing, which he aims to make affordable yet stylish. So what can we expect from the man whose debut album pales in comparison to even that of David Hasselhoff's? Probably something along the lines of a Baby Gap stocked with an array of tiny wife beaters, baggy baby jeans, and heavy gold chains…perfect for teething.
Another celebrity to take a stab at an unlikely, vocational alteration is
Kevin Costner
, who recently expanded his field of dreams to include lead singer of the country-rock band, Modern West. According to People Magazine, Kevin has been playing music with some of his Modern West band mates for close to twenty years, but it wasn't until this past November that the group released their first album, which features six songs co-written by Mr. Costner. "I remember looking out into the crowd, thinking, 'This just feels right.'" Kevin previously said about doing an early Modern West performance. Hey, even after films like "
Waterworld
" and "
The Postman
" the man's career didn't pull a complete Titanic, so who knows, maybe Mr. Dances…err Sings with Wolves will turn out to be the next
Garth Brooks
.
Celebrity career changes are fairly common and some certainly work better than others. To conclude, here is a list of some of the more unexpected celebrity career alterations:
Kate Moss
- actress (apparently she does have a voice)
Steven Seagal
- singer with his gem of an album "Songs from the Crystal Cave"
Lance Bass
- astronaut (N'Sync's Space Cowboy must have really struck a chord)
Clint Eastwood
- singer (In the 60's, Dirty Harry cut a pair of singles and a long playing record called "Rawhide's Clint Eastwood Sings Cowboy Favorites")
And of course, the perennial favorite of career chameleons,
Arnold Schwarzenegger
, the former body builder/actor turned governor of California.
Story by
Michaela Zanello
Starpulse contributing writer