Uncle Kracker To Appear on 'Extreme Makeover: Home Edition,' Dec. 4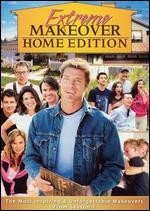 Coming up on
Extreme Makeover: Home Edition:
"Novak Family"-- Ty and the gang transform the lives of Jeff Novak, a recently widowed Special Education teacher, and his three young daughters in Boardman Township, Ohio, when they rebuild and renovate their damaged house into a beautiful, spacious home in just seven remarkable days. Celebrity chef Bobby Flay teaches Jeff Novak how to cook, and the band
Uncle Kracker
performs a special song for the family after their new home is revealed. The episode airs Dec. 4.
Jeff and Jackie Novak spent most of their time caring for others, whether it was for their three young daughters or in the classroom as schoolteachers. As avid fans of "Home Edition," the Novaks made it their goal to make a difference in the lives of others, as the show had done.
At the young age of 28, Jackie, the mother of three girls, was pronounced dead of a pulmonary embolism. While the Novaks' lives were turned upside down by the loss of their mother, their home was continually being ravaged by problems. Raw sewage annually fills the basement, their only shower leaks into the kitchen and family room below, and there's only one bathroom in the whole house for Jeff and three growing girls. Additionally, the windows are a problem without any screens or air conditioning... Jeff is forced to leave the windows propped open, which is a safety concern for curious toddlers. The entire floor plan, composed of small rooms, is a logistical disaster, making surveillance of the young children impossible for Jeff. But although the house is riddled with problems, unquestionably the biggest challenge for Jeff is suddenly becoming a single parent of three little girls and staying strong in the face of tragedy.
Related Links:
Uncle Kracker bio, photos, reviews & more...
Uncle Kracker ringtones