Uma Thurman's Stalker Ordered To Take Psychiatric Exam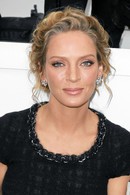 A judge in New York has ordered a man convicted of stalking Uma Thurman to undergo a psychiatric evaluation after concluding he is unfit to sign a plea deal.

Jack Jordan, 40, was convicted of stalking the Kill Bill actress in 2008 and was arrested again last year over allegations he breached a restraining order by calling Thurman's cell phone and her Manhattan office in October.

He has pleaded not guilty to two counts of criminal contempt and was back in court on Thursday as part of a proposed deal with prosecutors which will see him sentenced to two years of treatment at an outpatient facility followed by a year of probation.
 
Jordan has allegedly refused to take anti-psychotic medication or sign paperwork, and Brooklyn Supreme Court Justice Matthew D'Emic concluded the accused "cannot assist in his own defense," according to the New York Post.

The judge ordered Jordan to undergo a psychiatric evaluation, but insisted the move will not invalidate his right to take the deal, telling the court, "This doesn't mean we're going to stop the process of his release."