Uma Thurman Joines Cast Of Lars Von Trier's Explicit Erotic Drama 'Nymphomaniac'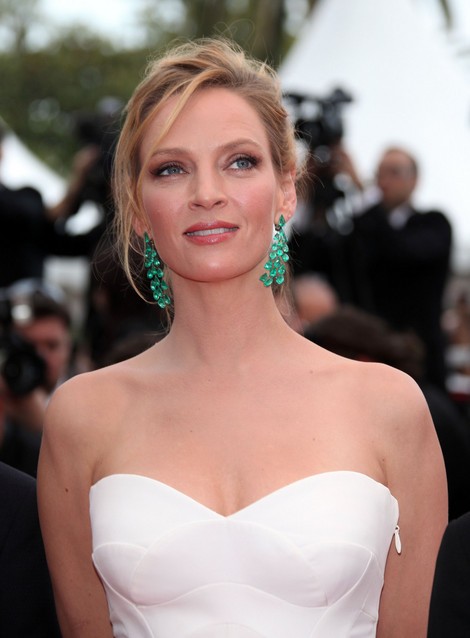 Uma Thurman is the latest A-list star to join the cast of Lars Von Trier's upcoming erotic drama, Nymphomaniac.

The film, which will reportedly feature unsimulated sex scenes from some of its stars, will be split into two movies, the first of which is planned for a 2013 release and is currently filming in Cologne, Germany.

Actor Shia LaBeouf, who signed on to join the cast in August, made headlines after revealing that the film's script called for several of its stars to perform real sex acts.

"There's a disclaimer at the top of the script that basically says we're [having sex] for real. Everything that is illegal, we'll shoot in blurred images. Other than that, everything is happening," he told MTV.com.

Nymphomaniac stars Charlotte Gainsbourg in the titular role, as a self-diagnosed sex addict who endures a brutal beating and is found by an older bachelor (Stellan Skarsgard) in a back alley. The man takes her in and nurses her back to health while she tells him stories about her erotic experiences.

There's no word whether or not Uma will participate in any of the film's racy scenes, but judging by the fact that she recently had a baby with her businessman boyfriend Arpad Busson, it's a good bet her as-yet-undisclosed role will be a bit more modest than some of the others.

Producers recently confirmed that there will be real sex in the movie, but it will be performed "with the help of body doubles and visual effects." The body doubles for the more graphic scenes are rumored to actually be adult film stars.

The two films will be released in both explicit and tamer editions. Jamie Bell, Christian Slater, Willem Dafoe and Connie Nielsen have all signed on to star in the film also. Dafoe and Gainsbourg recently starred in Von Trier's Antichrist, which also contained unsimulated sex performed by body doubles.

There's no official word as of yet whether any of Nymphomaniac's stars will "doing their own stunts" in the film.