Ukrainian Prankster Arrested After Crashing Adele's Grammy Acceptance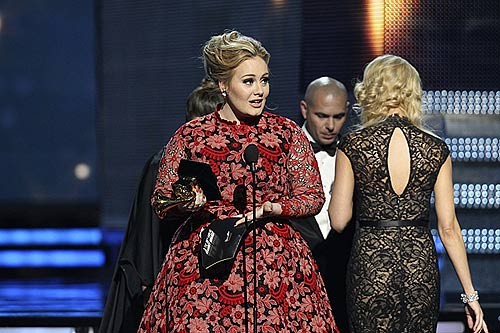 Ukrainian reporter Vitalii Sediuk was arrested at the Grammys on Sunday after crashing Adele's acceptance speech for her Best Pop Solo Performance award, and a quick-thinking Jennifer Lopez helped quickly put an end to the situation, pulling him back from having too much of a Kanye moment.

Lopez was on stage to present the award with rapper Pitbull, and when Adele's name was read Sediuk got up and also climbed on stage.

He was arrested after the incident and jailed on trespassing charges. A court date is set for next month.

The journalist told The Hollywood Reporter afterward that since his news channel didn't get the credentials needed to get into the awards he tagged along with some friends and was able to sneak in to the show.

He says he simply "followed one girl in a green dress" -- who turned out to be Katy Perry.

Vitalii ended up with a second row seat that was actually reserved for Maroon 5 singer Adam Levine; and he says the idea to go on stage was a "last second" thought.

"To be honest, Adele is my favorite singer," he says. "So when I heard her name, I came up with this idea to go up on the stage and say what I said.

"I pretended this was an award for me, and then I said, 'Thank you, Adele. You're my inspiration.'"

J. Lo quickly pulled Sediuk away from the microphone and gestured for him to get off the stage before Adele stepped up to it.

"I don't remember her expression, but I remember someone pulled me," he says. "When I saw the video, I realized it was Jennifer Lopez."

But Sediuk spoke in defense of his actions, saying, "My purpose is to entertain and to show a different emotion of celebrities. I'm not a crazy guy. I just think differently."

It's not the first time Sediuk "thought differently" -- last May he was slapped by Will Smith at the Russian premiere of Men in Black III for trying to kiss him; and in 2011 he handed Madonna a bouquet of Hydrangeas, which she hates.

Sorry Vitalii, but Kanye West had one of the greatest acceptance crashing moments of all time.