UK Music Sensation Emeli Sande Gets Ready To Take US By Storm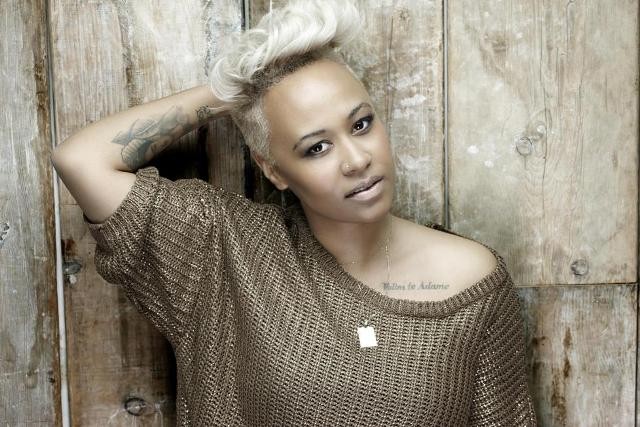 Everything's looking up for Emeli Sande. Since the Scottish singer-songwriter released Our Version of Events in 2012, she watched it become the year's best-selling album in the UK, performed at the London Olympics, and enjoyed a huge international buzz. She's now featured on the soundtrack to Baz Luhrmann's The Great Gatsby, which opened Friday. BFTV caught up with the red-hot singer to get to know her better.
"The whole of last year was just such a crazy ride for me," Emeli reflected. "I feel like it's really surpassed my expectations and it's gone a lot quicker than I ever would've imagined. Winning the BRIT Awards a couple months ago [she earned British Female Solo Artist and Our Version of Events was named British Album of the Year], that was a big moment.  To be honest, ever since releasing the record and having the opportunity to be a musician, it was worth leaving school and pursuing this."
Now, after her success in the UK, she's working to introduce her unique, soulful sound to the United States. "Definitely bringing my music over to the States is a big goal, [and] also in Asia," she told us, just as she's getting ready to play select dates in America in July and early August. Emeli will visit Orlando, Atlanta, New Orleans, Houston, Dallas and Chicago; you can find out more information about those concerts by visiting the tour dates page on her official website.
"I think people will be surprised how energetic I can get on stage," she said, explaining what audiences can expect from her live performances, "but I like to mix that energy with real intimate moments. I like to keep everything live and everything created on stage. I hope they feel inspired."
For the American audience that's yet to be exposed to her music, what song would she recommend they begin with? "I love a song called 'Clown' on the album," she said. "I think if people have a quiet moment, they should listen to that one first, because it gives a gist of me as a writer." You can also listen to the hit track "Heaven" by checking out the video at the end of this article.
While enjoying her current success, which also included a performance at the famed Royal Albert Hall that was released as a live album earlier this year, Emeli is already looking forward to working on her next record. "I really want to do some writing," she continued. "Writing a second album that I'm really proud of, that's the biggest challenge."
She describes her creative process as "pretty organic," rather than many artists who come in with a specific idea of what they expect from themselves. "I'm very chilled out," she reflected. "I'm pretty open to lots of different experiences. There's no kind of wrong way to do anything. I think having that type of attitude really helps me connect with lots of different musicians."
Having put out a hit first record, racked up quite a few awards and nominations, played legendary venues, and now being a featured artist on a major motion picture soundtrack, in the last year-plus Emeli already has a career that many musical artists will only ever dream of. But what's going to make this talented young woman consider her career a success? "I think a problem and a good thing is that you're always trying to better yourself. You're never completely satisfied until you finish," she reflected. "But I think if I look back and I'm proud of the work, and it was an honest representation of me at the time, I'll be proud." Sounds like she's got plenty to be proud of already.
Emeli's album Our Version of Events is out now. You can find out more about her at her official website (emelisande.com) and follow her on Twitter (@emelisande).
(c)2013 Brittany Frederick. Appears at Starpulse with permission. All rights reserved. No reproduction permitted. Visit my official website and follow me on Twitter at @tvbrittanyf.