U.K. Comedy Club Owner Suing 'Glee' Over Name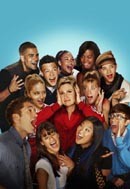 Hit TV musical Glee could be taken off the air in the U.K. over a legal battle with the owner of a comedy club chain.

Mark Tughan, who launched his Glee Club franchise in England in the 1990s, is suing bosses at Twentieth Century Fox for breach of trademark, claiming the shared name is bad for his business.

The complaint is to be heard at Britain's High Court after a judge at London's Patents County Court warned on Thursday that a win would mean "the television program, at least in its current form, would have to be taken off the air".

Judge Colin Birss admitted a ruling against Fox executives, who have filed a counterclaim, would be "potentially catastrophic" for the Glee phenomenon.

Tughan first launched his complaint last September when he said the family-friendly series, which stars Matthew Morrison as a teacher to a group of singing high school students, was damaging his brand.

He explained, "People associate us with the show and I can't be in that position as we couldn't be more different. Glee's performers sing covers and the program is aimed at a young demographic while mine starts at 18. It's manifested itself in the under-performance of newer outlets in Oxford and Nottingham.

"Members of staff said people were walking along the street and pointing to the entrance, asking if it was something to do with the TV show."