'Ugly Betty' Recap: The Courtship Of Betty's Father

Wow. Nurse Elena is patient enough to make homemade pomegranate juice, and she's got Ignacio pumped to go for walks in 30-degree weather! What a gal. Elena, Ignacio, and Claire get major air-time in this ep, and it makes for one of the better "
Ugly Betty
" episodes this season.
We begin with Betty receiving a phone call from Claire Meade who has been caught stealing mascara from a drug store. Betty dashes off to foot the bill (for which the totally loaded Claire doesn't seem to have the cash). And when Betty later talks to Daniel, Claire's odd behavior starts to make more sense… She's turning sixty next week and is freaking out about the milestone. So Betty and Daniel decide that a surprise party would make Claire feel loved and appreciated.
Betty first proposes making a Claire tribute video out of old Meade family home movies. The problem is that Claire is totally schnockered (complete with martini in hand) in almost every old video. Betty is still debating over what to do when Claire comes into Daniel's office, expecting a chastising for the whole shoplifting incident. She says that she knows he will want to talk about it but wonders if they could do so over dinner that night. Daniel says that he can't because he already has plans with Molly. We see Claire's eyes dim, and… a-ha! We get it. She's acting out to get Daniel's attention.
This brings me to a question I've been wondering: Where the heck has Claire been? I've been getting really tired of seeing the marvelous Judith Light pop in and out of scenes in total random fashion. I say "Ugly Betty" needs more Claire! In a show populated with bold, chirpy characters, Claire's dry, dark humor gives the show some balance.
But anyway, since the home movies won't work, Betty decides that she will videotape Claire's friends saying nice things about her. Then she'll stitch the footage together. She pulls out the video camera and practices taping Hilda and Justin. When she's done practicing, she thinks she has turned off the camera, but, unbeknownst to her, it continues to take footage of the Suarez living room.
Around this same time, Daniel and Molly are going ice skating together, and they bump into Connor and Wilhelmina. Suppressing the obvious awkwardness, the two couples decide to sit down over hot chocolates. Eventually Molly and Connor start reminiscing about old times, and Daniel and Wilhelmina grow visibly self-conscious. It's not long before the impromptu double-date breaks off, and the couples go their separate ways.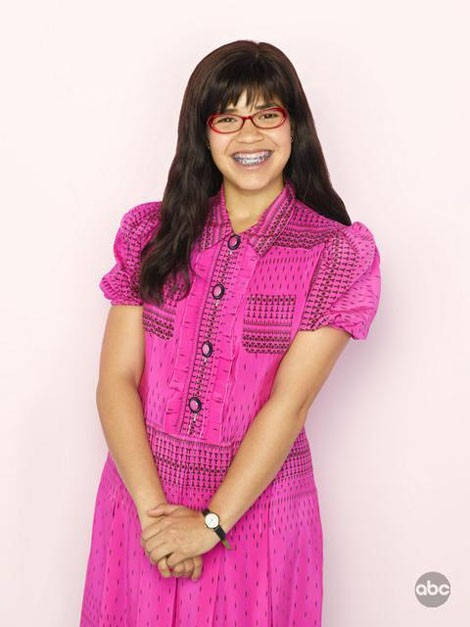 The next day, Daniel is still wanting some special memories of his own with Molly, so he contemplates a trip to Tibet. Molly had mentioned that she always wanted to go there but never made it. Betty suggests Daniel start by making some good local memories before jet-setting, and Daniel mulls over this suggestion.
Speaking of Betty, she is in Daniel's office to interview him for Claire's tribute video. But when she tries to record, the tape seems to be full. She and Daniel find the mistakenly recorded living room footage from the previous night, and then they see Ignacio and Elena on screen. Ignacio and Elena are hugging goodbye after their evening walk, and - oh, the horror! - Ignacio goes in for a butt squeeze! The sight of her father getting grabby with his nurse leaves Betty understandably warped, and she takes the tape home to Hilda.
Hilda is initially in denial, and Betty is panicky that Elena will either A) sue them for sexual harassment, or B) quit and leave them nurse-less. The sisters agree that Hilda will confront Elena, and Betty will talk to Ignacio. Hilda just comes out and asks, and Elena insists that Ignacio is a "lovely man" and that she will not quit. But Betty…well…she… beats around the bush. She takes Ignacio for a lunchtime walk in Manhattan and never really gets to the point of the conversation. Eventually, they end up back at Mode where Ignacio uses the restroom.
While Ignacio is gone, Claire shows up and asks why Betty is interviewing her friends. Betty quickly makes up something about doing a project on Claire for her YETI program, and Claire doesn't press it. Instead, Betty ends up spilling about the situation with her dad and how she's totally wussed out on talking to him about it. Claire sympathizes and says her husband got frisky after his first heart attack too. She offers to talk to Ignacio for Betty. So when Ignacio returns, Claire leads him off to get a cup of coffee, and Betty hopes that Claire will lay the issue to rest.
Elsewhere, Wilhelmina is frustrated by her situation with Connor. Like Daniel, she is intimidated by being in a relationship with someone who has so much history with someone else. Marc points out that maybe Wilhelmina should at least visit Connor's apartment if she wants their bond to deepen.
Connor has to go to London on business, and, in an attempt to show more affection, Wilhelmina asks if there is anything she can do to help while he's away. She ends up agreeing to babysit his pet parrot, Olivia Newton Bird - who is known to say, "Pretty Molly! Pretty Molly!" In an exasperated moment after Connor's departure, Willy makes an "oh, the things we do for love" remark, and Marc's eyes light up. Wilhelmina loves Connor! Willy admits as much but then says she can't be the first one to say it because it would mess up the power dynamic in her and Connor's relationship. The only thing is…Olivia Newton Bird is now saying, "I love Connor! I love Connor!"
In the meantime, Betty has started interviewing Claire's friends…who really aren't great friends after all. They don't have much to say about Claire beyond the assertion that she's a "fun drunk" and that she "rebounded from that murder conviction" quite well.
That evening, Betty fills in Hilda on the sad Claire situation as they set the table for dinner. They are waiting on Ignacio to come to the dining room and keep calling for him. Hilda says that he is upstairs doing his physical therapy with Elena. When Betty goes to fetch him personally, she gets a shock. Her dad and Elena are making out in the entryway to their house!
Immediately, Ignacio comes clean that he and Elena are in a relationship. He says that, after his conversation with Claire, he felt confident about telling the girls that he and Elena are together. He planned to do so that night. But Betty and Hilda are furious. Hilda, in particular, thinks that the romance is totally inappropriate and implies that Elena is abusing the nurse-patient relationship. Betty is mad at Claire for encouraging her dad. Eventually, Elena walks out, leaving Ignacio puppy-eyed.
While things are falling apart at Betty's house, Daniel is still trying to step out of Connor's shadow. Since he can't take Molly to Tibet, he decides to take her out for Tibetan food instead. Molly thinks the dinner plans are very sweet. Unfortunately though, Molly and Connor were regulars at this particular restaurant. The host recognizes her, and the chef sends out complimentary appetizers. Daniel tries to swallow some of the exotic foods, but he just can't keep it together. Ultimately, he runs to the restroom to puke - which is pretty much the capstone to their evening.
The next day, Betty starts following Claire around with a camera (having apparently given up on interviewing Claire's so-called friends). Claire is lingerie shopping. Unable to hold it in, Betty asks if Claire told Ignacio that it was okay to have a relationship with his nurse. Claire smiles that knowing, Judith Light smile and says that she told him to "follow his heart." She then swipes a pair of lacy undies and bolts out of the store. Betty tries to stop her and manages to get the undergarments back at the entrance. But Claire has already left, and security thinks that Betty is trying to shoplift. Realizing Betty isn't behind her, Claire soon eventually and takes responsibility for the near panty-theft. This time, the store security decides to call the police.
As the women wait for the cops, Betty finally gets the scoop on Claire: Today is Claire's sixtieth birthday, and she feels alone. Her husband is dead; Alexis and DJ are in France; and Daniel spends all his time with Molly. She already knows about the surprise party and the tribute video, but what she really wants is a little of Daniel's time. She warns Betty about her father - one day Hilda and Betty may not live with Ignacio, and then he will be all alone. Of course, this gets Betty's wheels turning…
Back at Mode, Daniel still isn't feeling well after the previous night's meal. Molly comes to bring him club soda. He confesses that he's scared because he's never been in a long-standing relationship, and he's a scared of how much history Molly has with Connor. But Molly assures Daniel that they will have their own memories - and, in fact, even if the Tibetan restaurant didn't work out for a romantic evening, it was still memorable.
Soon, Daniel gets a call from Betty, and he goes down to the store where Claire is awaiting the police. He tells his mom that he's had his lawyers handle everything, and she can go home. Then he sits down and, in a quiet mother-son moment, apologizes for not having been there for her lately.
Meanwhile, Betty waits on Elena's doorstep until the nurse comes home. Betty apologizes for reacting so badly the night before. The two women don't hug it out or anything, but they seem to reach an understanding. Betty appears to recognize that Elena genuinely cares about Ignacio; and Elena explains that she has never felt this way about a patient.
Betty convinces Elena to come back and try having dinner with the family again. Of course, Hilda is dead-set against it, so she and Betty have a heated private chat in the back of the house. Clearly moved by Claire's experience, Betty emphasizes that she doesn't want their dad to be alone - and Hilda doesn't want that either. Hilda just feels like their mom's memory is starting to fade. Ignacio happens to overhear that part of the conversation and walks in to tell the girls that no one can replace their mom.
So, this dinner attempt goes better than the previous night's. Justin seems to like Elena; Betty is warming up to her; and Hilda at least tolerates her dad's new girlfriend.
All this while, Willy is finishing up her bird-sitting duties. She and Marc have been trying to teach Olivia Newton Bird to say anything other than "I love Connor," but they're having no luck. Marc eventually suggests that Willy just tell Connor - that waiting for Connor to say "I love you" first doesn't give her more power. It just means that she's scared.
Wilhelmina must take Marc's advice to heart because when Connor gets home, he barely walks through the door before she nervously blurts out those three little words. Connor drops his bags, turns around, and goes in for a hot kiss. He tells her that he loves her too. And then… the bird says, "I love Connor" because, well, you knew that was coming.
At Mode, Claire and Daniel have gotten all dolled up for Claire's surprise party (of which she is now openly aware). She is trying to "make the best of it" even though she doesn't like her friends much. As they walk in, Daniel says that he needs to stop by his office for a second. And when they get there, Claire gasps. Daniel has had his office decorated for a special dinner for two. There are a couple of servers, a magical looking table spread, a bottle of champagne, and a TV. They eat dinner, visit, and watch home movies of Claire reading to her sons when they were little. Claire is positively glowing the whole time.
All I can say now is: Please, "Ugly Betty" writers, keep Claire more in the loop from now on. Judith Light's awesomeness is too great to be reserved for small token appearances.
Ugly Betty Stars:
America Ferrera
/
Eric Mabius
/
Alan Dale
/
Tony Plana
/
Ana Ortiz
/
Vanessa Williams
/
Ashley Jensen
/
Becki Newton
/
Mark Indelicato
/
Michael Urie
/
Rebecca Romijn
/
Kevin Sussman
/
Freddy Rodriguez
/
Illeana Douglas
/
Judith Light
/
Christopher Gorham
Story by
Chelsea Fogleman
Starpulse contributing writer