Uggie Of 'The Artist' Retires, Leaves Paw Prints Outside Grauman's Chinese Theatre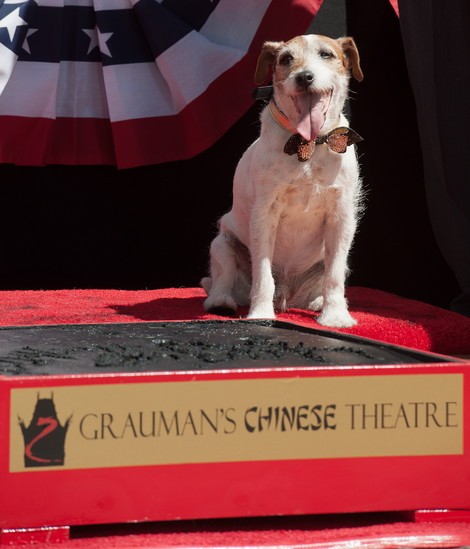 After a decade in show business, Uggie the Jack Russell terrier made history in Hollywood yesterday when he became the first dog to leave his paw prints outside Grauman's Chinese Theatre.
The dog became a sensation last year after sharing the screen with French actor Jean Dujardin in the Oscar-winning silent movie "The Artist." Uggie also played the part of Queenie in "Water for Elephants" with Reese Witherspoon and Robert Pattinson.
The ceremony also marked Uggie's retirement from acting.  His trainer, 49-year-old Omar Von Muller, said in February the dog is suffering from a mystery shaking syndrome. He explained, "It is a neurological disorder and we've spent thousands on vets' bills trying to figure out what is causing it, but the experts don't really know."
In May he won the 2011 Palm Dog Award at the Cannes Film Festival. In February, Uggie was named Best Dog in a Theatrical Film at the first Golden Collar Awards.
Bosses at People for the Ethical Treatment of Animals (PETA) recently made him the poster pooch for an animal rescue campaign.  In April they launched their "Adopt, Don't Buy" drive in a bid to encourage would-be dog owners to take in a pet from animal shelters.