UFC Octagon Girl Arianny Celeste Says She's Happiest When She's In A Bikini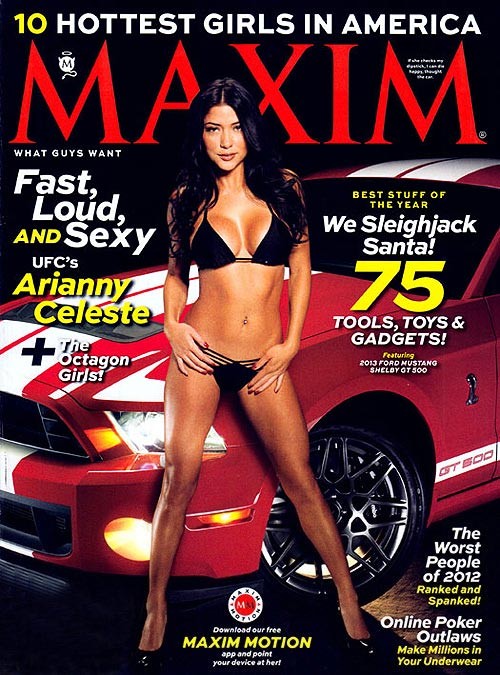 Sexy Ultimate Fighting Championship (UFC) Octagon girl Arianny Celeste gets our engines started in the December issue of Maxim magazine, showing off her sexy curves in a black bikini with a sweet red ride on the cover.

The 27-year-old model, full name Arianny Celeste-Penelope Lopez Marquez, dishes on how letting fight fans know what round is about to begin has changed her life, and she also shares the perks of her job.

"[UFC has] blown up! First I thought MMA (mixed martial arts) was kinda of scary, but seeing what the fighters go through, I have total respect for what they do."

Arianny, who was one of the magazine's "Hometown Hotties" finalists in 2008, began her work as a ring girl for the fighting league in 2006 and has since become a household name amongst UFC fans.

And good news for those fans, Arianny says that her favorite 'perk' of her job is the traveling; and it's a good bet the sexy pictures will keep coming.

"I loved Brazil and Sydney," she says. "If I'm by the water, in a bikini, I'm happy."

The self-described "sexpot" was also featured on the cover of the magazine for a 2010 issue; and for those wishing to see even more of her, she also took it all off for Playboy magazine that year.

The holiday issue of the popular men's magazine also asked her if she's been naughty or nice this year.

"A mixture of both, but more on the naughty side. I like to keep things interesting," she says.

See more of Arianny, along with fellow MMA ring girls Brittney Palmer and Kenda Perez, in the December issue of Maxim Magazine and at Maxim.com.