U2 To Donate $7 Million To Irish Schools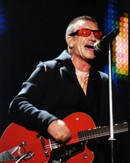 Rockers U2 have pledged more than $7 million for schools in their native Ireland.

The cash will be dripped into the education system between now and 2015, according to reports.

The donation from Bono and his bandmates will help schools pay for new musical equipment and salaries for music teachers.

The U2 money will be welcome - Irish politicians recently voted for major cuts to education spending in an attempt to solve the country's ongoing economic problems.