U2 Documentary Set To Open Toronto Film Festival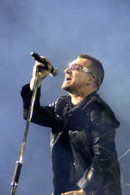 Rock band U2's documentary has been selected to open the Toronto International Film Festival in Canada in September.

The film, From The Sky Down, is directed by Oscar winner Davis Guggenheim and chronicles the Irish band's longtime success since its formation in 1978.

The 2011 celebrations will be a star-studded affair - other celebrities set to showcase their latest works include Brad Pitt (Moneyball), Hugh Jackman (Butter), Keira Knightley (A Dangerous Method), and Glenn Close (Albert Nobbs).

George Clooney will screen two movies at the festival (The Ides of March, The Descendants), as will British actress Rachel Weisz (The Deep Blue Sea, 360).

Madonna will also be on hand to support the cast of her upcoming directorial debut, the period piece W.E.

The 11-day event will begin on September 8.