U2 Dedicate A Song To Amy Winehouse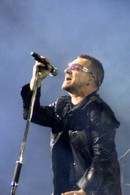 U2 have honored Amy Winehouse by dedicating a song to the tragic singer during a gig in Minneapolis, Minnesota.

The band was playing at the city's TCF Stadium on Saturday, the day the tragic Rehab hit-maker was found dead at her home in Camden, north London.

The group proceeded to pay tribute to Winehouse during the show, dedicating their 2001 track Stuck In A Moment You Can't Get Out Of to her. The song was originally written for late INXS rocker Michael Hutchence, who committed suicide in 1997.

Frontman Bono told the crowd, "We wrote this next song for Michael Hutchence, but you will understand tonight if we play it for Amy Winehouse."

Meanwhile, Irish pop stars Westlife also marked Winehouse's death by dedicating their Saturday gig at Hamilton Park Racecourse, England to the Rehab hit-maker.

Singer Mark Feehily said from the stage, "It's been a funny old day. I'm sure you've all heard the sad news about Amy Winehouse. I am a massive fan of her; she has done so much for music."