Tyler, The Creator Pays For Vandalism Damage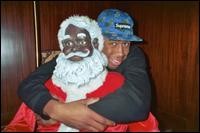 Tyler, The Creator has reportedly handed over approximately $8,000 to the owners of a Los Angeles nightclub to cover damages from a gig in December.

The hip-hop star played with his band Odd Future at the Roxy Theatre on Sunset Boulevard, but the rapper was led away in handcuffs at the end of the show after he was arrested for allegedly lashing out at a soundman and destroying stage equipment.

He was left facing a vandalism charge over the incident, but has now made amends with the venue owners by paying for the damage, according to TMZ.com.
 
The website reports Tyler - real name Tyler Okonma - is set to meet with the local District Attorney who will ask the star to help pay for the police investigation in return for dropping the charges.