Tyler, The Creator Arrested For Vandalism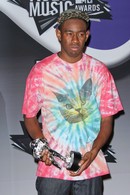 Rapper Tyler, The Creator has been arrested for allegedly vandalizing sound equipment after performing at a gig in Los Angeles.

The hip-hop star was playing at his band Odd Future's Christmas show at the Roxy on Sunset Boulevard on Thursday night, but as he came off stage the rapper, real name Tyler Okonma, allegedly vandalized some equipment.

In fan footage posted online, he can be seen kicking and throwing equipment across the stage, causing staff members to call cops.

The star was handcuffed in front of his mother, who was attending the concert, and taken into custody on suspicion of vandalism, reports TMZ.com.