Tyler Perry's Treatment Of Writers No Cause For Celebration

Atlanta - Saturday, October 4th: At a glittering gala event, a bevy of Hollywood power players including
Oprah Winfrey
,
Will Smith
and
Sidney Poitier
, entertainers (singers
Mary J. Blige
,
John Legend
,
Gladys Knight
) and sports legends (
Hank Aaron
,
Barry Bonds
) gathered to fete writer/actor/director
Tyler Perry
, who made history by becoming the first African-American to launch a major film and television studio.
Amidst a backdrop of champagne uncorking and a band playing "The Impossible Dream," media outlets like People Magazine, CNN and Entertainment Tonight snapped pictures and gathered sound bites from attendees. Just outside the gates of the former Delta Airlines headquarters that now houses Tyler Perry Studios, a handful of writers went largely unnoticed as they marched and chanted, hoisting signs of protest.
What could there be to protest? Perry has made his reputation as a playwright and filmmaker who produces often-comedic family-friendly fare that caters to a mostly religious fan base. Though consistently panned by critics, his films are widely considered inoffensive, a fact that doesn't deter Perry. "I'm not an artist," he has said. "I set the camera up and tell my story."
Perry's story began in New Orleans, where his childhood was marred by poverty and abuse. Fleeing the home of his alcoholic father, Perry lived in a rundown studio apartment in Atlanta, GA where inspired by an episode of
The Oprah Show
, he began to channel his rage and sadness onto the written page. His first attempt to stage his play "I Know I've Been Changed" was a bust and he struggled as a construction worker and car salesman for years before getting a second opportunity. This time he appealed to church communities and the play was a rousing success, leading to a slew of other productions. In 2005, he introduced his popular character (and female alter-ego) 'Madea' in his first film,
Tyler Perry's Diary of a Mad Black Woman
.
To date, Tyler Perry has had four No. 1 films, sold more than 11 million DVDs of his films and stage plays, published a bestselling book (Don't Make a Black Woman Take Off Her Earrings) and ventured successfully into television. TBS has ordered episodes of his new show "
Meet the Browns
" and the fourth season of his show "
House of Payne
" now airs on The CW.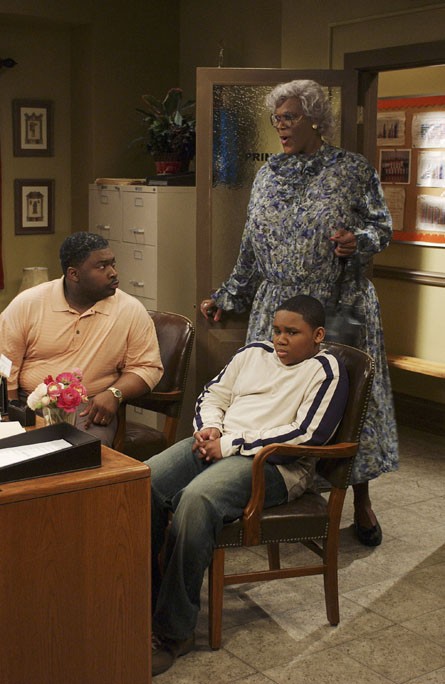 It is "House of Payne," a series centered on three generations of a black family under one roof that incited the Writers Guild of America to accuse Perry of unfair labor practices last Thursday and to file charges with the National Labor Relations Board. It is "House of Payne" that prompted an open letter to Tyler Perry decrying his actions signed by dozens of scripted television's most powerful names including Shonda Rhimes, Head Writer of
Grey's Anatomy
and
Private Practice
,
Alan Ball
(
True Blood
), Marc Cherry (
Desperate Housewives
), Rene Balcer (
Law & Order
), Chuck Lorre (
Two and a Half Men
) and Matthew Weiner (
Mad Men
). It is "House of Payne" that motivated the quiet protest of now-unemployed scribes outside Tyler Perry's Studios on the night of the gala.
What could there be to protest? According to The Guild, negotiations have been ongoing with Perry since April to ensure basic rights for his writers, among them payment of residuals. Allegedly, after four writers on the staff of "House of Payne" sought Guild representation, Perry's production company House of Payne, LLC abruptly gave them the ax (which, if true is a labor violation). A fifth writer quit out of solidarity. Sources on the show have claimed that they were told by Perry to "be careful about pushing the WGA deal or you could be replaced."
Newest numbers indicate that "House of Payne" has been an incredibly lucrative enterprise for Perry: TBS has raked in $200 million in license fees for the show, and Perry sold the show into syndication to 'MyNetwork' for an estimated $100 million. In addition, Tyler Perry collects compensation for directing each episode of the series. The entity that ensures his payment? The union he's covered by, The Directors Guild.
Nothing can detract from the accomplishments of a visionary young man from a hardscrabble beginning. A savvy businessman, his projects forced Hollywood to recognize a demographic largely dismissed and his myriad characters from Madea and Old Joe to Leroy Brown have had audiences rolling in the aisles across the country. Still, the fact remains that whether in Hollywood or Atlanta: A. The WGA guarantees screenwriters basic entitlements like a minimum compensation, residuals, health coverage and a pension and B. "House of Payne" is one of the few shows not covered by a WGA contract. Mr. Perry should be rightly congratulated on making history, but it's his future endeavors - and ethics - that should interest us all even more.
This week, actress
Anne-Marie Johnson
, a frequent "House of Payne" guest star and SAG National Board declared that " Mr. Perry's firing of writers, for negotiating for fair WGA coverage including health insurance, does not speak well for a man who claims to believe in family, pride in one's race and artistic equality. It's time he steps up to do the right thing." As Madea would say, "Hallelu-Yer!"
Is Tyler Perry cashing in at the expense of writers he employs? Tell us what you think in comments!
Story by
Shannon Peace
Starpulse contributing writer
Special thanks to
Deadlinehollywooddaily.com
for providing source for this article.