Tyga Needs 'No Introduction'

Emerging new artist
Tyga
is preparing for his highly anticipated debut album, "No Introduction," set for release on June 10th. Signed to
Pete Wentz
's Decaydance Records, through Travis McCoy's imprint, Bat Squad, the 18 year old phenom was named "one of the best undiscovered rappers in America" by
Vibe Magazine
. He performed at the 2007 MTV Video Music Awards and can currently be seen in
Lil Wayne
's new video "Lollipop," proving that this star is clearly on the rise.
The forthcoming album entitled "No Introduction" features amazing collaborations with Travis McCoy (
Gym Class Heroes
), Lil Wayne, and
Patrick Stump
(
Fall Out Boy
). Tyga's hip hop roots blended with his collaborators' pop/rock vibe to make him a stand out in today's cluttered musical landscape. The first single, "Coconut Juice," which features a verse by Travis McCoy is already creating a huge amount of buzz online. The recently shot video was directed by Dale "RAGE" Resteghini (
Mims
,
Soulja Boy
) and features cameos including Travis, Pete and Lil Wayne.
Tyga was be featured on MTV's Spring Break 2008 in Panama City, Florida, which aired the week of March 24th on MTV. Tyga joined an all-star line up of performers for this year's festivities, including
Lupe Fiasco
,
Flo Rida
,
Paramore
, and
Panic at the Disco
, and performed "Woww" and his current single, "Coconut Juice." Once again confirming Tyga's mass appeal,
Blender Magazine
featured "Woww" as a must-have download track in their March issue.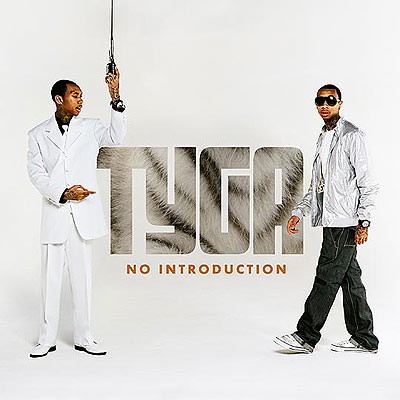 Tyga will also be accompanying Gym Class Heroes on their Spring 2008 Campus Tour. Beginning April 1st, the tour will be making stops at several college universities throughout the nation.
Campus Tour w/ Gym Class Heroes, Kidz In The Hall & I Am the Avalanche:
April 11 - University of Pennsylvania Philadelphia, PA
April 12 - Rider University Lawrenceville, NJ
April 13 - Washington College Chestertown, MD
April 16 - University of Missouri-St. Louis St. Louis, MO
April 17 - Wayne State University Detroit, MI
April 18 - Ohio Wesleyan University Delaware, OH
April 19 - Lock Haven University Lock Haven, PA
April 20 - Millersville University Millersville, PA
April 24 - George Mason University Fairfax, VA
April 24 - Wootton High School Rockville, MD
April 25 - Niagara University Buffalo, NY
April 26 - University of Hartford Hartford, CT
May 1 - Fitchburg State College Fitchburg, MA
May 2 - Cornell University Ithaca, NY
May 3 - Manhattan College Riverdale, NY
Tyga ft Travis McCoy - Coconut Juice
Tyga's 'No Introduction' - Hits stores July 10.