Ty The Next To Go On 'Dancing With The Stars?'

The
Dancing With The Stars
semi-finals lived up to expectations as each of the four remaining couples performed a ballroom and a Latin routine, earning them scores to hopefully propel them into next week's finals.
Before their first routine, each couple analyzed their favorite dances from the past nine weeks.
Melissa Rycroft
and Tony Dovolani picked the foxtrot and the samba to take cues from. She wanted to have a great frame like in the foxtrot and use her hips to the same extent that she did in the samba.
Gilles Marini
and
Cheryl Burke
, the highest scoring couple of the season, dissected the paso doble as well as the foxtrot, aiming to improve the rise and fall of Gilles' movement, and enjoy the performance as much as he did during the paso.
Shawn Johnson
and Mark Ballas reminisced about last week's dances, calling both the quickstep and the paso doble their break out dances. Shawn felt that both dances showed different sides of her personality and her ability to perform, have fun and get into character.
Ty Murray
and partner Chelsie Hightower went back and looked at their Lindy hop and the quickstep. In both dances, Ty showed major confidence and a good dance frame. He aimed to come out and have the same tenacity and intensity for his performances.
Melissa and Tony were first up to dance in both the ballroom and the Latin rounds of competition, performing the quickstep and the cha cha cha. Melissa needed to whip her feet into shape to impress head judge Len Goodman this week in order to raise her scores. But, by impressing Len with her quickstep, her appeal with Bruno Tonioli and
Carrie Ann Inaba
fell slightly by the wayside. Bruno told her the quickstep wasn't as exhilarating as it could be, and Carrie Ann said it didn't look like her soul was in it. It didn't mean that the two judges thought she danced poorly, but she didn't wow them as she has in previous weeks. Len, on the other hand, was quite impressed. He said Melissa was a delight to watch and looked gorgeous. He also complimented her improved footwork. She received a ten from Len and two nine's giving her a first round total of 28.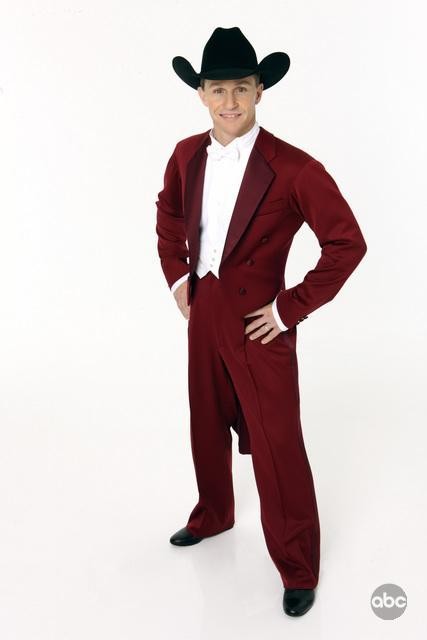 As far as Melissa's cha cha was concerned, Bruno encouraged her to sustain her energy throughout the whole performance. Carrie Ann told her to up the emotional quality and Len liked it, but not as much as he expected to. She received three nines in the second round, giving her a grand total of 55 out of 60 possible points for the evening.
High scoring Gilles Marini had a goal to get a perfect score this evening, considering he's earned most points, but hasn't received a 30 since the fourth week of competition. Well, Gilles had his wish answered, twice. Both his salsa and his waltz earned him the most points possible, 30 out of 30, leaving him with a grand total of 60 for the night. Carrie Ann Inaba called his waltz subtle, sweet perfection. Bruno called it irresistible and Len giving him a standing ovation…from his chair. As far as the salsa was concerned, the praise just got better. Len told him he wished he had an "11" paddle to hold up, the first time he's ever said that in 8 seasons. Carrie Ann told him he definitely should be in the finals next week. Bruno, pleased with Gilles' shaking of the hips and booty, told him that Lil' Kim was alive and well and hiding in his pants.
Shawn and Mark nailed one dance and slightly missed the mark on the other. The Argentine tango earned Shawn her first perfect score of the season. Carrie Ann was pleased at how well she delivered the emotion of the dance, along with great, strong lifts. She told Shawn that precision was definitely her middle name. Len agreed, happy with Shawn's intensity and maturity, considering she's the youngest contestant to ever dance on the show. And Bruno, well, he compared her to
Catherine Zeta-Jones
in
Chicago
. I'll just go ahead and assume that that's a good thing.
However, Shawn's jive brought her down a little. Len said there was too much "messin' about" and wanted to see more traditional jive moves. Carrie Ann said she liked seeing how far Shawn has come, on the performance end of the scale, but said it looked like she was dragging toward the end of the routine. Bruno had positive words to say; he said he liked it when she went wild and let loose, and she definitely sold him on her jive. The mixed reviews earned Shawn a 26 for round two, leaving her in second place for the evening with a 56 out of 60 total points.
And last but not least, the rodeo cowboy who can't be bucked off. Ty Murray performed a nice Viennese waltz this week. He said he was out to justify the fans keeping him in the competition over a more skilled dancer (
Lil Kim
). Len said it was obvious how hard he tries, and despite a couple issues, he called the dance fabulous. Bruno and Carrie Ann both pointed out the issues -- a few wobbles with partner Chelsie Hightower and a lack of smooth, fluid motions. Ty earned a 25 during the ballroom round of competition.
During rehearsal, Ty called the samba and pain in the ass. It was also painful to see such low scores during an otherwise excellent semi-final round of competition. Ty's samba only earned him 23 more points, putting him at the bottom of the leader board with 48 out of 60 points. The judges didn't really comment on the dancing, but they complimented Chelsie on her hard work teaching Ty. They also, again, praised Ty's attitude and major improvements over the past weeks. Carrie Ann Inaba called him the MVP of season 8.
My guess is this cowboy has seen his last dancing rodeo, but you never know. Anything can happen.
Who do you think will be eliminated? Leave a comment below!
Image © American Broadcasting Companies, Inc.
Story by
Beth Wickman
Starpulse contributing writer