Two Very Dedicated Fans Create Live Action 'Toy Story' (Watch It!)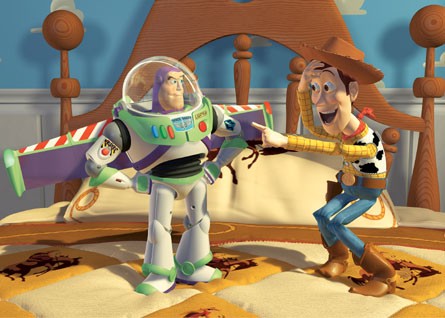 Two very dedicated Toy Story fans recreated the entire Pixar film scene-for-scene and posted it to YouTube on Monday, amassing a whopping 3.1 million hits.

Jonason Pauley (19) and Jessie Perrotta (21) spent two years filming and editing together the live-action version of the movie, complete with a real Cinderella's castle and "Walt Disney Pictures" opening.

"I'm kind of blown away [by all the attention]," 21-year-old Perotta tells Entertainment Weekly.

The film even features the full score and songs from Randy Newman, along with all the original dialog -- except for Andy.

The film incorporates stop action, green screen and all the strings and coat hangers used to move the toys are visible -- but none of them take anything away from the production and it's a joy to watch.

The Arizona natives met at church and planned the live-action Toy Story right after Toy Story 3 was released.

"We started off with the easy stuff, all of Andy's room first," Jessie says.

Jonason and Jessie made sure to keep Pixar informed of their plan, and last week the two flew to Pixar Studios in Emeryville, Calif. to give out copies of their live-action version of the movie on DVD.

"We didn't have a formal invitation," Jessie explains; "but we'd contacted them on Twitter to let them know we were coming to give out our DVD. The security guard said he expected us and let us give it out to people going in. That was a nice gesture."

And what do the two friends expect to gain from their experience?

"We're not making any money off of this and we don't plan to," Jessie says. "We already got what we were looking for: the recognition. This will help us as we move on to our next video. We'll have a fan following."

No one from Pixar has commented on the film yet; however, Toy Story 3 director Lee Unkrich posted the video on his Twitter page Sunday with the message, "Live action Toy Story (re)made by some VERY dedicated guys."

Check out the LIve Action Toy Story Project Facebook page here; but before you go watch the full movie below...