Two New Series Kick Off Tonight On Lifetime

The shows "Side Order Of Life" and "State of Mind" debut on Lifetime tonight at 8 p.m. "Side Order of Life" is a comedic drama about that moment in your life when the universe gives you a wake-up call.
But if you're lucky enough to get it, are you ready to answer, or do you ignore it and send it to voice mail? For Jenny McIntyre, life is about to get very real, especially when the illness of her closest friend, Vivy, surprisingly provides Jenny with a new clarity and an extraordinary outlook on life. As a photographer, Jenny finds herself with the ability to make connections through the lens of her camera that were never before possible. These connections allow her to change the world around her. Jenny's journey ultimately takes her to see something that isn't clear to others, which enables her to touch people's lives. But will it also help her put her own life together?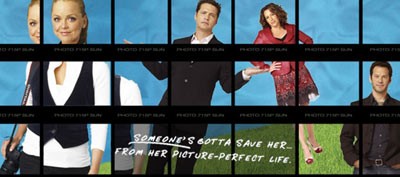 "Side Order of Life" stars
Marisa Coughlan
,
Jason Priestley
,
Diana-Maria Riva
and
Christopher Gartin
.
"State of Mind" (9 p.m.) centers around New Haven Psychiatric Associates, a rambling Victorian house turned office building for a group of therapists, a newly minted lawyer and an eccentric office manager, all of whom have personal problems as interesting as those of their eclectic and offbeat patients and clients. The series takes a unique perspective on sex, life, love, death, family and friends, incorporating complex personalities and an endless curiosity about human beings.
The ensemble series is led by
Lili Taylor
, who plays Ann, a brilliant psychiatrist who finds her life at a crossroads after she catches her husband, Phil, a fellow psychiatrist, having sex with their own couples counselor. With her personal life suddenly crumbling, Ann begins to feel she needs all the help she can get from her colleagues — who both help and hinder her.