Two New Grateful Dead Music Collections Out April 7

Pinpointing the creative zenith of the
Grateful Dead
's career would be a challenge fit for even Sisyphus. That said, one could do a lot worse than looking to the fabled spring tour of 1977, long considered by Dead Heads as the very best. During a remarkable 26 shows in 37 days, the Dead played with unparalleled energy, wit, passion and power -- a band at the very top of its game. The tour ended on a euphoric note May 28 at the Hartford Civic Center in Connecticut, where the band previewed several tracks from its soon-to-be-released ninth studio album
Terrapin Station
.
To Terrapin: Hartford '77
revisits that glorious spring evening in New England, presenting the entire show in HDCD, mastered from the original soundboard tapes. The set contains 21 unreleased live songs and an extensive 16-page booklet featuring rare photos taken at the actual concert. The three-disc collection will be available April 7 at retail outlets and
Dead.net
.
This release showcases several live versions of ambitious works from
Terrapin Station
that would become beloved staples of the Grateful Dead's repertoire. The first of these was "Estimated Prophet,"
Bob Weir
and
John Barlow
's portrait of a particularly Californian breed of delusional would-be visionary, which managed to be at once uplifting and disturbing, thanks to the incantory lyric and to Weir's ingenious musical setting, a sinuous Reggae-flavored groove knocked beautifully off-kilter by a 7/4 time signature. The second major new piece, which would take up the entire second side of the LP, was utterly unlike anything the Dead had attempted before: the epic, allegorical "Terrapin Station" suite -- as felicitous a marriage of music and storytelling as was ever accomplished by
Jerry Garcia
and
Robert Hunter
in the course of their long and fruitful collaboration.
By the time the tour reached its triumphant finale in Hartford on May 28, it was readily apparent that the new songs -- including the
Phil Lesh
/Peter Monk rocker "Passenger" and Bob Weir's red-hot reinvention of the
Rev. Gary Davis
gospel-blues classic "Samson And Delilah" -- could stand proudly alongside such long-standing pillars of the Dead canon as "Bertha," "Sugaree," "Jack Straw," "Candyman," "Playing In The Band," "One More Saturday Night" and the other standbys heard on this recording.
Spring '77 Dead included
Jerry Garcia
(lead guitar, vocals),
Donna Jean Godchaux
(vocals),
Keith Godchaux
(keyboards),
Mickey Hart
(drums),
Bill Kreutzmann
(drums),
Phil Lesh
(bass, vocals), and
Bob Weir
(rhythm guitar, vocals).
The same day
To Terrapin: Hartford '77
is released,
Winterland 1973: The Complete Recordings
will debut at traditional retail outlets. Previously available exclusively through
Dead.net
, this critically acclaimed nine-disc collection captures every note from the band's three-night residency at Winterland (November 9, 10, and 11, 1973), playing in front of its hometown crowd.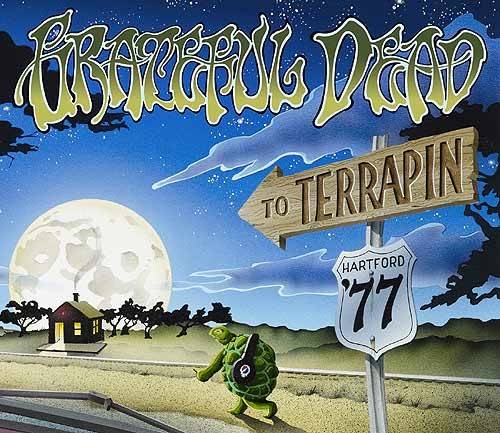 "To Terrapin: Hartford '77" Track Listing

Disc One
1. "Bertha"
2. "Good Lovin'"
3. "Sugaree"
4. "Jack Straw"
5. "Row Jimmy"

Disc Two
1. "New Minglewood Blues"
2. "Candyman"
3. "Passenger"
4. "Brown-Eyed Women"
5. "Promised Land"
6. "Samson And Delilah"
7. "Tennessee Jed"

Disc Three
1. "Estimated Prophet"
2. "Playing In The Band"
3. "Terrapin Station"
4. Drums
5. "Not Fade Away"
6. "Wharf Rat"
7. "Playing In The Band"
8. "One More Saturday Night"
9. "U.S. Blues"