Two New Career-Spanning Albums From Celine Dion Out Oct. 28

On Tuesday, October 28th, Columbia Records will release two special edition CDs featuring career-spanning repertoire from
Celine Dion
, the biggest selling female artist of all time.
My Love...Essential Collection
is a single disc featuring 17 songs, consisting of Celine's biggest hits... songs such as the international chart-topper "All By Myself" (her unforgettable interpretation of the groundbreaking
Eric Carmen
power ballad), "Where Does My Heart Beat Now" (Celine's first English-language single), her landmark 1996 Olympic Ceremonies performance of "Power of the Dream, the brand-new never-released "There Comes A Time," and, from her
Taking Chances Tour
, a live recording of the lead track "My Love."
"My Love" -- a semi-autobiographic song recently written for Celine by
Linda Perry
(
Christina Aguilera
,
Dixie Chicks
,
Gwen Stefani
) -- has become a show-stopper every night during Celine's sold-out World Tour, which is currently in flight across North America. "My Love" landed at radio on September 22nd.
The two-disc edition, entitled "My Love...Ultimate Essential Collection," is a 26 song set that has been further expanded to include rarities like "(You Make Me Feel Like A) Natural Woman," "The Prayer" (a duet with
Andrea Bocelli
), "Tell Him" (a duet with
Barbra Streisand
), "I Knew I Loved You," "Dance With My Father", and "Pour que tu m'aimes encore" (the biggest song of Celine's French career).
Celine's "My Love…" anthologies cover virtually every single aspect of her extraordinary career, including fan favorites, a definitive assemblage of chart-topping international successes, as well as new and unreleased recordings culled from once-in-a-lifetime experiences that Celine has participated in over the years.
Celine Dion is the biggest-selling Female Artist of All Time, with worldwide album sales of over 200 million. Her RIAA Diamond Award albums "Falling Into You" and "Let's Talk About Love" have each sold over 30 million worldwide. She has five Grammys--Best Pop Vocal Performance (
Beauty and the Beast
); Album of the Year & Best Pop Album (
Falling Into You
); Record of the Year & Best Female Pop Vocal Performance ("My Heart Will Go On") and two Best Song Oscars ("Beauty and the Beast" & "My Heart Will Go On"). Over 3 million people saw her in "A New Day" in Las Vegas, during its record-breaking five year run of sold-out shows. Following the Las Vegas engagement, Celine released her Taking Chances CD, which went top 5 in every major market around the world, and launched her first Worldwide Concert tour in over nine years. The tour has been playing to sold-out Stadiums and arenas since it debuted in South Africa on Valentines Day 2008, and once completed it will have crossed five continents, 24 countries, and 95 cities, enroute to playing for an audience of over 3 million people.
Currently the tour is in full swing throughout North America, stopping in every major city in the US and Canada, playing to sold-out arenas every night. "This tour has been an incredible journey for me, says Celine. First of all, it's given Rene and I a chance to travel the world with our 7 ½ year old son, and as well, we've had my mother who is 81 years old traveling with us…so it's been a wonderful family experience, and I feel really privileged. At the same time, it's been so rewarding for me to reach out to my fans and perform many of the songs that they have supported me on for so many years. We do some new songs, of course, but we make sure to do the long-time favorites as well."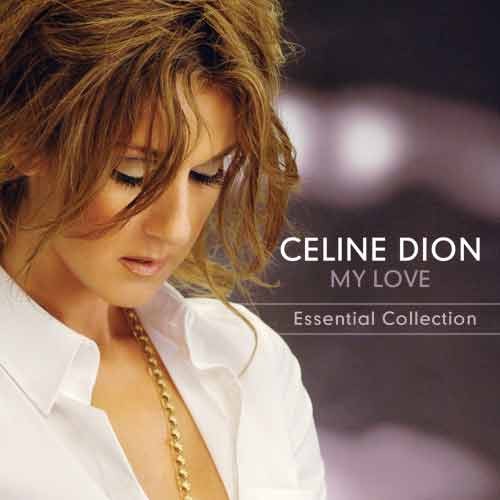 Track Listings
Celine Dion - "My Love…Essential Collection" - single disc edition
1. Where Does My Heart Beat Now
2. Beauty & The Beast (duet with
Peabo Bryson
)
3. If You Asked Me To
4. The Power Of Love
5. My Love (Live From
The Taking Chances Tour
)
6. Because You Loved Me (Theme From
Up Close & Personal
)
7. The Power Of The Dream (taken from opening ceremony of the 1996 Summer Olympics)
8. It's All Coming Back To Me Now
9. All By Myself
10. My Heart Will Go On (Love Theme From
Titanic
)
11. I'm Your Angel (duet with
R. Kelly
)
12. That's The Way It Is
13. A New Day Has Come
14. I'm Alive
15. I Drove All Night
16. Taking Chances
17. There Comes A Time (previously unreleased)
Celine Dion - "My Love…Ultimate Essential Collection" - two disc edition
1. Where Does My Heart Beat Now
2. Beauty & The Beast (duet with
Peabo Bryson
)
3. If You Asked Me To
4. Love Can Move Mountains
5. My Love (Live From
The Taking Chances Tour
)
6. The Power Of Love
7. Pour que tu m'aimes encore
8. (You Make Me Feel Like A) Natural Woman
9. Because You Loved Me (Theme From
Up Close & Personal
)
10. The Power Of The Dream (taken from opening ceremony 1996 Summer Olympics)
11. It's All Coming Back To Me Now
12. All By Myself
13. River Deep Mountain High
14. Tell Him (duet with
Barbra Streisand
)
15. My Heart Will Go On (Love Theme From
Titanic
)
16. To Love You More
17. I'm Your Angel (duet with
R. Kelly
)
18. The Prayer (duet with
Andrea Bocelli
)
19. That's The Way It Is
20. A New Day Has Come
21. I'm Alive
22. I Drove All Night
23. Taking Chances
24. There Comes A Time (previously unreleased)
25. Dance With My Father
26. I Knew I Loved You
Click the pics for gallery & larger images