Two More Out On 'American Idol': See The Power Rankings

Last night, "
American Idol
" morphed into a classic variety show celebrating Disco while Anoop and Lil became history.
The show opened with a very interesting look at a different
Paula Abdul
. She's long played the show's doped-up clown. It was nearly jarring to see her barking at the kids and taking her work so seriously, and it actually paid off. This was one of the best group numbers from a visual standpoint the show has ever done. True choreography that nearly exhausted the Idols by song's end. We know it wasn't the singing that left them breathless - lip-synching has never been more apparent.
After a Ford video that was inexplicably not set to "Car Wash", my mother,
Freda Payne
(can't you see the resemblance?), takes the stage like the biggest diva in the world. She essentially had one hit but you wouldn't know it from the way she worked the stage like she belonged on the biggest show of the decade. It's too bad the plastic surgery left her face immobile. C'mon, Mom! Keep it natural!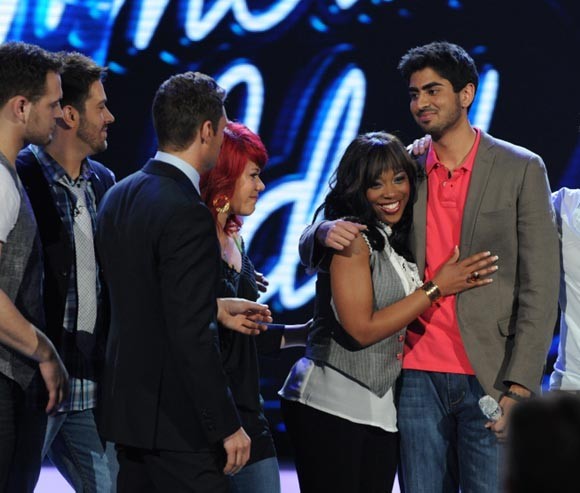 Anoop Desai and Lil Rounds are eliminated on AMERICAN IDOL Wednesday, April 22 on FOX. CR: Ray Mickshaw / FOX.
The disco kept on coming with
Thelma Houston
rocking out a
Simon Cowell
-themed "Don't Leave Me This Way" complete with multi-colored fettuccine glued to her head. Looked delicious.
Of course, the oxymoron that is good disco couldn't last forever. K.C. came out showing the full effects of his infamous "Behind The Music" cocaine habit, looking like a man who lost his ability to not look like a human mannequin with the rest of the brain cells. Seriously, he could barely move his joints; he was like
Kristen Wiig's
impression of Barbie. Maybe he needed Paula as a choreographer.
Tonight's commercial tangent: "Glee" looks like "
Freaks and Geeks
" with really cool musical numbers. Let's hope it doesn't get buried. Speaking of great shows that are about to get buried, if you're looking for something to watch before "Idol" other than Tim Roth yelling, "His eye's twitching, he's lying!" flip to "Better Off Ted" on ABC before it gets cancelled. Best workplace comedy on TV, and yes that includes "The Office".
The scene shifted from Disco with the return of America's second most famous elf, behind Bob Costas,
David Archuleta
. What can we say about this song? It sounds like some weird blend of emo, funk, and mainstream pop with a choirboy on the vocals.
Jennifer Hudson
is still solidly in front for the best performance by a past contestant (non-Kelly Clarkson division).
Of course, this is not your ordinary variety show. Peoples' lives are altered on this stage. Last night, two saw their dreams die.
I wonder how low Rounds' vote total was that they just kicked her off without any drama or fuss. It was as if the producers were aware that everyone in American knew Rounds was gone, and didn't feel a need to delay the inevitable.
And Rounds, this year's queen of the tantrum, handled the boot with remarkable class and delivered her best performance yet on the big stage. Too bad for her it was after she'd already been ousted from the competition.
The rest of the results pretty much followed this trend of delaying the drama. A quick pass through the row of Adam, Danny and Kris - those who are always safe - and a quick sending of Anoop to the stools of shame. At this point, everyone knows who's out and who's safe, nice of the producers to recognize that and not force us to wait for something so predictable.
Of course, our predictions are not always spot on. Giraud seemed ready to go home but instead it's Allison who's forced to cross the stage. That was a shocker, but also a moment that lent credence to the theory that the bottom three aren't always the bottom three with Anoop's being voted out. On such a predictable night, could the judges have messed with the bottom three just to add a bit of drama to otherwise bland results? Doesn't seem impossible. . .
Now the competition is down to five people with a near-equal chance to win it (that's assuming Matt Giraud performs at a level on par with his abundant talent). So who's the most likely to win out of this group? The power rankings hold all the answers:
1 (Last week's Rank: 1)
Adam Lambert
The judges love him and the public love him. Seacrest barely even bothered to discuss his fate last night, because everyone already knew he was going on to the next round. Just like everybody know he's going to win.
2 (2)
Kris Allen
Kris is probably the only person capable of an upset at the end. He gets screams from crush-stricken ladies every time he takes the stage and he actually has some pretty incredible musical chops, showing an ability to reinvent any song. He doesn't have a lot of room for error, but if he performs up to this potential he could take a shot at the crown.
3 (3)
Allison Iraheta
The biggest X-Factor in the competition. She's the only girl left, so she has a sizable contingent all to herself. Plus, her age means she can capture the youth vote. And her musical style has her as the last rocker standing. With so many voting blocs at her disposal she could actually win. Right?
4 (4)
Danny Gokey
Who knows about Danny anymore? He's never hit the bottom three so he must be pretty popular, but there's also a sizable contingent of people sick of hearing about his dead wife, callous as that may be. Plus, he seems to be the last contestant Simon really doesn't like. His wedding singer performances also won't help him too much as there are no also-rans left to watch fall by the wayside.
5 (5)
Matt Giraud
And then there's Matt. I've long hailed him as the most talented Idol in the competition, and that still may be true. He just hasn't showed it recently with a string of lackluster performances that actually got him voted out once. He could very well win it, but he has to maintain the brilliance he flashed earlier on the big stage.
Story by
Andrew Payne
Starpulse contributing writer