Two Jews' Review 'We Bought A Zoo' And Experience 'Christmas Miracle'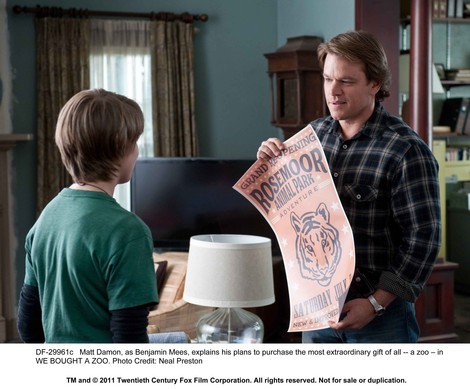 Two Jews on Film - By Joan Alperin Schwartz: 'Sometimes all you need is 20 seconds of insane courage and I promise something great will happen'. Ben (Matt Damon) says this terrific line to his teenage son Dylan (Colin Ford). Ben got the line from his older brother Duncan (Thomas Haden Church) and it's just one of the many awesome lines of dialogue in Cameron Crowe's new film 'We Bought a Zoo'.  
I absolutely loved this movie.
From the first scene where Ben asks his super adorable 7 year old daughter Rosie (Maggie Elizabeth Jones), how he's doing as a dad? She replies, 'Well at least you have all your hair'... that did it for me. I knew I was in for a wonderful ride.
'We Bought A Zoo' written by Cameron Crowe and Aline Brosh McKenna (The Devil Wears Prada) and is loosely based on the British journalist, Benjamin Mee's memoir. The writers shifted the story from England to Southern California.
Ben, an adventure writer for a magazine, is dealing with the sudden death of his wife 6 months ago and doing his best to make things go as smoothly as he can for his two young children.
It seems he seems to be doing a good job, at least in relationship to Rosie. With Dylan however, things aren't looking too good.  
Dylan spends his time drawing really dark, weird, disturbing pictures and to make matters worse, he gets caught stealing and is expelled from school.
Ben realizes he must do something drastic to keep his son from spiraling downhill completely. So what does Ben do?
He quits his job, moves to the country and buys a Zoo.
You can't really blame him. The Zoo does come equipped with a hot, pretty Zookeeper, Kelly Foster (Scarlett Johnanson) and some very awesome animals.  Oh, and the new house isn't too shabby either.
'We Bought a Zoo' is one of those feel good heartwarming movies with a great message.  And you know what?  It's a perfect film to see this time a year... or anytime of the year for the matter.
Matt Damon has never been better, the scenes between him and his son are filled with raw emotion that really show Damon's depth as an actor.
The supporting cast includes the very funny Angus MacFayden and the lovely Elle Fanning as part of the Zoo's staff.
'We Bought a Zoo' is about love, loss, family, letting go and ultimately it's about giving... Giving everything you got to the adventure of life, wherever that journey may take you.
And lastly, I mustn't forget.
The animals living in the zoo are magnificent, the zoo is actually more like a spacious Animal Park. They are in no particular order lions, tigers, bears, geese, zebras, beavers, just to name a few. They will absolutely win your heart, as will this film.  It certainly won mine... and...
It even won... John's… the sometimes, critical half of 'Two Jews on Film'.  He actually liked it a lot.
Wow! A Christmas miracle.
I gave 'We Bought a Zoo' which opens in theaters, Friday, December 23, 2011, 4 1/2 bagels out of 5 and John was right up there with me in his bagel award.  
Check out our video to see our special 4 legged holiday visitor. And have a very happy holiday and fantastic New Year everyone.