Two Jews' Review 'My Week With Marilyn' And See Oscar Nod For Michelle Williams (Video)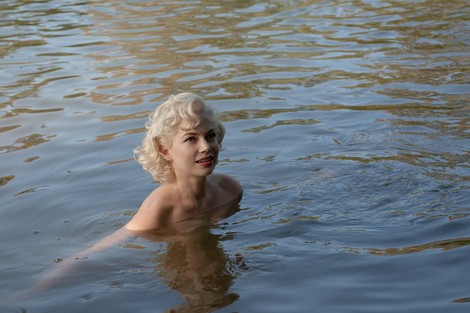 Two Jews on Film - By Joan Alperin Schwartz: When the film 'My Week With Marilyn' directed by Simon Curtis, begins we see Marilyn Monroe on a stage singing 'That Ole Black Magic'... That's who I thought it was, anyway.
It actually took me a few seconds before realizing that I was watching not Monroe, but Michelle Williams. That's how good she is in her portrayal of the damaged, insecure, extremely sensual, extremely vulnerable Hollywood icon/sex symbol known as Marilyn Monroe. Or to put it simply, Michelle William's performance blew me away. 
And the rest of the film is pretty wonderful as well.  'My Week with Marilyn' is based on two memoirs by documentary filmmaker, Colin Clark.
The year is 1957 and Colin (Eddie Redmayne) 23, has a dream to make movies.  So Colin says goodbye to his super wealthy family, leaves his super sized mansion in the country and heads for London.
As soon as the charming Colin arrives, he uses his powers of persuasion to finagle a job with Sir Laurence Olivier (Kenneth Branagh). The job, working as his 3rd assistant director, aka a goofer, on the film 'The Prince and The Showgirl' which Olivier is not only starring in, but directing as well. Oh, and the female star just happens to be... 
Miss Marilyn Monroe.
Marilyn arrives in London with her new husband, the great playwright, Arthur Miller (Dongray Scott) as well as her super possessive acting coach, Paula Strasberg (Zoe Wanamaker) and the head of her film company, Milton Greene (Dominic Cooper).
She also brings along all her bad habits which includes pills, tardiness and an extreme fear of not being a good enough actress.     
Marilyn's dependence on The Method are just a few of the things that start to drive Olivier absolutely crazy, while the rest of the cast, including Dame Sybil Thorndike (Judi Dench) seem to be enamored with her.
Of course, the main story here is the relationship between Colin and Marilyn.  Olivier assigns him the job of babysitting Marilyn and it doesn't take long before Colin falls madly in love with her.  Can you blame him? Unfortunately, this upsets his girlfriend, Lucy (Emma Watson) Can you blame her?
Anyway, a real friendship develops between the two of them and for a short time, Marilyn actually feels protected and accepted for who she truly is.
'My Week With Marilyn' is a film about love, falling in love for the first time and what it's like to never really feel loved... even though you are loved by everyone.
The film ends the way it began. Michelle Williams, on stage surrounded by dancers, singing 'We're Having a Heat Wave' and watching her perform...we understand why Marilyn Monroe was and will always be... Hollywood's greatest sex symbol.  
'A Week with Marilyn' opens in limited release, Wednesday November 23, 2011.  Check out our video to see how many bagels John gave this film.  Needless to say, I don't agree with his rating.