Two Jews' Review 'Mirror Mirror' And Only One Feels The Happily Ever After (Video)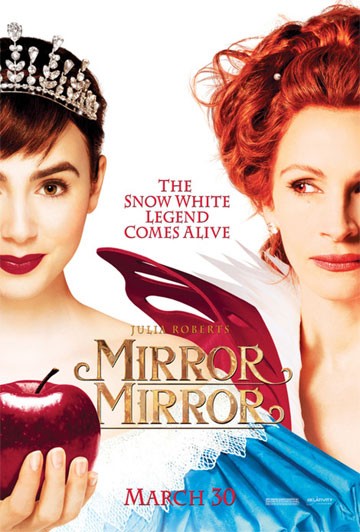 Two Jews on Film - By Joan Alperin Schwartz: Mirror, mirror on the wall, who's the fairest Of Us All? The answer to that question is definitely Miss Julia Roberts, who plays Snow White's (Lily Collins) evil stepmother/queen, in director Tarsem Singh's new film, 'Mirror Mirror'.
Ms. Roberts absolutely nails the part.
In fact, she is the only reason to see this remake of the classic fairytale. I think this is one of her best performances in a long time.
For those of you not familiar with the story (yes, it is possible) Snow White's daddy, the King (Sean Bean) disappeared one dark and stormy night. Maybe it snowed, but in any case, he was never seen or heard from again.
The king's wife, aka the evil one, has been ruling the land ever since and has all but destroyed the kingdom and its people.
You see, Miss Queenie is your basic narcissist, obsessed with her looks and size two figure.  I'm sure we've all run into that type once or twice.
She's also verbally abusive to Snow, who really doesn't seem all that bothered by it... until.
Snow finds out that the Queen has bled the people dry, by taxing them to the hilt. Hey, spider venom is expensive and this Queen needs a ton of it.
Okay, so Snow, unbeknownst to the Queen, sneaks out of the palace and heads for town.  Miss White wants to see for herself how bad things really are.
Well as fate would have it, Snow runs into none other than Prince Charming (aren't they all). And of course, she meets the Seven Dwarfs. But they're no longer the seven little guys we've come to know and love.  For some reason, they've been renamed. Gone are Happy, Dopey, Sleepy, Mopey etc. They've been replaced by Grimm, Napoleon, Pint-size, Butcher, Chuckles, Grub and Wolf. If you stay past the credits, you will find out why.
Does this new take on 'Snow White' work?  Yes and no...Visually it's beautiful... I loved the sets and the costumes.
Armie Hammer as Prince Charming is... charming. Nathan Lane as Brighton, the Queen's punching bag man-servant is fine. Nathan does Nathan and that's always enjoyable.
Lily Collins (daughter of Phil) is slightly bland as Snow.  I would have liked her to bring some quirkiness to the part. 
'Mirror Mirror' is a bit edgier and hipper but unfortunately it misses being a 'Shrek' or even a 'Princess Bride'.
However, the film is still fun and at times funny.  So if you have kids, are a kid, have a kid inside of you, then 'Mirror Mirror' which opens in theatres Friday, March 30, 2012, is the perfect movie to see this weekend.
I gave it 3 bagels out of 5 and John. The other half of 'Two Jews On Film' was, as usual, less generous.  Check out our video to see John's take and let us know who you think is the fairest of us all.