Two Jews' Review 'Man On A Ledge' And Both Say 'Jump Off' (Video)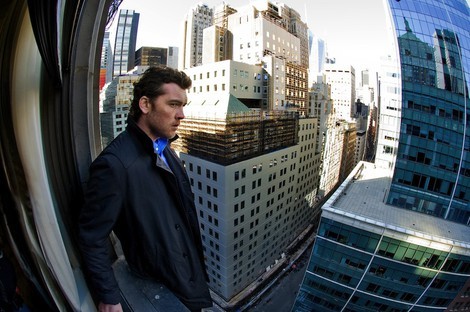 Two Jews on Film - By Joan Alperin Schwartz: A former NYPD officer, Nick Cassidy (Sam Worthington) escapes from Sing-Sing.  His next stop is the famed Roosevelt Hotel on 45th and Madison in the heart of New York City. Nick checks in, making sure his room is on one of the highest floors. 
Nick orders a lobster and a bottle of champagne.  He eats, drinks a glass of the bubbly, wipes off his fingerprints, writes a short note, takes a few deep breaths and then steps outside onto a ledge, a ledge that is 225 feet above The Big Apple.   
It doesn't take long before the whole city notices would be jumper, Nick, including the police and a news reporter (the funny, Kyra Sedgwick).
First on the scene is Detective Jack Dougherty (Edward Burns). Nick tells Jack that the only person he'll talk to is...
A burnt out Police negotiator; Detective Lydia Spencer (Elizabeth Banks) Lydia recently lost a jumper who was one of their own.  She just wants to lie in bed and feel sorry for herself.  But this is a movie so...
Cop Spencer quickly pulls herself together, arrives at the hotel and gets down to the business of saving Nick.     
It doesn't take long for Lydia and for the audience to find out...
Why Nick was sent to prison...Why he's on the ledge...Why he hates wealthy businessman, David Englander (Ed Harris) and a great deal of other stuff.  Some of it is interesting but a lot of it, not so much.
The film does have a few twists...A couple of them work, but others, you can see coming a mile away.
For me, the most contrived and unbelievable story line has to do with Nick's brother, Joey (Jamie Bell) and Joey's hot girlfriend, Angie (Genesis Rodriguez).  Don't worry... No spoilers.   
'Man On A Ledge' directed by Asger Leth and written by Pablo F. Fenjves opens in theatres, Friday January 27, 2012 and I'd wait for the DVD.
John and I actually almost agree on this one. Check out our video to see our bagel score.