Two Jews' Review 'John Carter' And Are Worlds Apart (Video)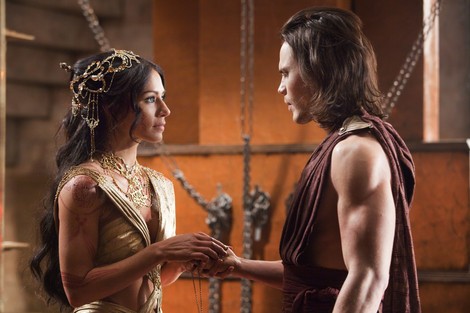 Two Jews on Film - By Joan Alperin Schwartz: Okay, so first I have to say that I loved 'John Carter', the Disney 3D Sci-Fi adventure film directed by Andrew Stanton (WALL-E). The plot can seem slightly more complicated than it is, so I'll just give you the main points. 
First, there's John Carter (the very handsome, Taylor Kitsch) a post Civil War Veteran who's absolutely fed up with war. All he wants to do is find, a certain cave, (that is supposedly filled with gold) and spend the rest of his life far far away from any kind of conflict. Good luck with that.
While running away from the U. S. Cavalry and a band of Indians, John does find a cave... but not just any cave. This one happens to have a portal that goes straight to...Mars aka Barsoom.  Well, there's also this mysterious bald man that has this little gadget, but I'm not going to go into that.  Don't want to spoil the fun.
So in a blink of an eye, our hero winds up on The Red Planet (except he doesn't realize that right away).  It's not until John discovers that he can leap tall buildings at a single bound, that our soldier starts to get the idea that he's not in Kansas anymore.
Actually what really seals the deal, is when John spots the 10 foot tall, skinny, green men with four arms. These primitive and at times, super vicious dudes, are called the Tharks and they're led by Tars Tarkas (Willem Dafoe). They give John a potion to drink and viola, he understands their language. Same thing happened to me in Italy but my potion came in a Chianti Bottle.
When the Tharks see how high our boy can jump, they decide to keep him as a pet.  Of course John has other plans. Especially when... he meets a hot, sexy Princess Dejah Thoris (Lynn Collins) who comes from the Planet Helium (There's always a hot sexy princess, right?).
History lesson:  Helium has been in war with the Zodangans for a very, very long time.  The Helium people are the good guys...The Zodangans...Bad...Really, Really Bad.   The Zodangans are led by the Evil Sab Than (Dominic West) who is hungry for power and hunger for our Princess.
There's also these three mystery guys called the Therns, who are shape shifters and trust me, they get around.
Still with me?  Hope so because 'John Carter' based on Edgar Rice Burroughs serial novels, is a super exciting, romantic and fun film definitely worthy of the four and a half bagels I gave it.
This film cost over $350 million and I know from the people I've talked with and some of the reviews I've read, people will either love it or hate it.  
Watch our video to see which side John landed on and how many bagels he gave to 'John Carter'. The film opens in theatres Friday March 10, 2012 and I think, you will definitely enjoy the adventure to Barsoom as much as I did.