Two Jews' Review 'Hugo' Only One Feels Scorsese's 3D Fantasy Will Capture Your Heart (Video)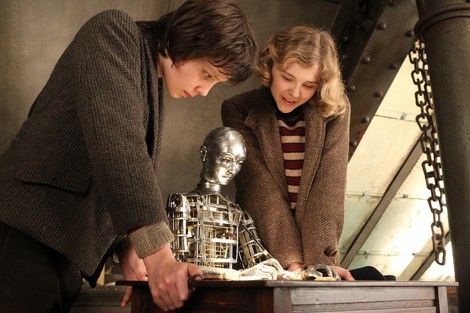 Two Jews on Film - By Joan Alperin-Schwartz: When you hear the name, Martin Scorsese several things may pop into your mind... New York City, Italian Gangsters, Films about Italian Gangsters... Casino, Heat and  Goodfellas, just to name a few.
Whatever the case may be, one thing is for sure you would never associate this extraordinary filmmaker with a children's fantasy film, shot in 3D and set in Paris in the 1930's. However, with Scorsese's newest film 'Hugo' that's about to change.
'Hugo', directed by Martin Scorsese, is based on the illustrated bestselling novel, The Invention of Hugo Cabret, written by Brian Selznick.

And it is without a doubt, Scorsese's heartfelt homage to the pioneers of cinema, including one of the greatest... Georges Melies. This is also one of Scorsese's most personal films.  He's said in many interviews that he wanted to do a film that his daughter could see.  And that's exactly what the director has achieved.

But make no mistake, this isn't just a children's film.  It's for anyone who believes in second chances, anyone who loves a good mystery, and for anyone who loves the magic that is movies.

Hugo Cabret (Asa Butterfield) is an orphan, living inside the clockwork high above the 'Gare Montparnasse' train station in Paris.  He spends his days alone, making sure the station's many clocks run on time, and trying to solve the mystery of an automation that his deceased father, (Jude Law) rescued from a museum fire.

Hugo's whole world exists inside the Gare Montpanase...He weaves his way through the station's many assorted characters, stealing food and whatever else he needs to survive...always making sure to avoid the local Police Inspector, (the extremely funny, Sacha Baron Cohen) who takes great pleasure in sending wayward boys to the local orphanage.

Despite being lonely and missing his father, Hugo is managing just fine on his own... but that all changes when he clashes with the owner of a toy repair shop located inside the station. The owner is a bitter old man and his name is Georges Melies (Ben Kingsley). Unbeknownst to both of them, their life is about to change... forever.

If I had any criticism of the film, it's that the first 50 minutes tends to be slow and slightly repetitious. But if you stick around, I promise, you will be taken on an adventure that in the end, will most definitely, touch your heart.  

Thanks to Scorese's brilliant design team led by Dante Ferretti, the train station is breathtakingly beautiful and this is one of those rare times, that the 3D effects work perfectly.

The supporting cast which includes Chloe Grace Moretz as Georges' goddaughter, Isabelle, who befriends Hugo, as well as Emily Mortimer, Christopher Lee, Ray Winstone are all wonderful....

However, the standout performance for me comes from Helen McCrory (The Queen) as Georges devoted wife and former muse, Jeanne.

Finally 'Hugo' is a film about dreams... those lost and those found... and it's a film about passion, family and in the end...love.

I gave Martin Scorsese's 'Hugo' four out of five bagels. Once again, the 'Two Jews On Film' had a very different movie going experience.  Check out our video to find out John's take and his bagel-rating.

'Hugo' opens in theaters, Wednesday, November 23, 2011, a perfect film for this holiday weekend.