Two Jews' Review 'Extremely Loud & Incredibly Close' - One Feels The Power (Video)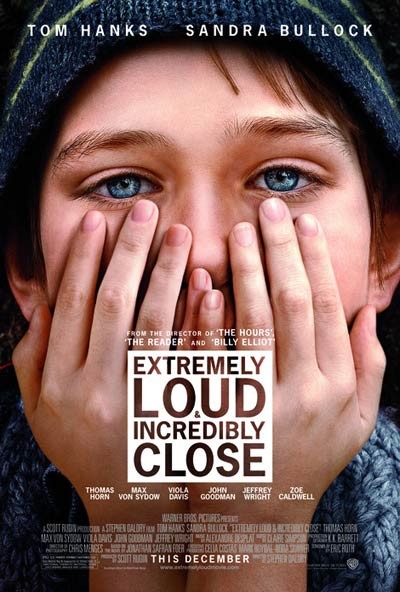 Two Jews on Film - By Joan Alperin Schwartz: 9/11... All you have to do is say that date and most people will have a reaction, usually an emotional reaction. For me, that emotion is one of sadness for the senseless loss that so many people experienced.
And now, ten years after that infamous day, Stephen Daltry has directed a beautiful, moving film about loss.
'Extremely Loud & Incredibly Close' stars first time actor, Thomas Horn.  He plays the young boy Oskar, trying to come to terms with his father's death on 9/11.
What's amazing about Thomas, is that just like the character Oskar, he too has Asperger's Syndrome.  Horn is in every scene of this film and he's absolutely reverting.
Apparently Scott Rudin saw him on the TV game show Jeopardy and cast him in the part.  I'm sure there's more to the story, but in any case, Thomas Horn definitely, if he chooses, has a great future ahead of him as an actor.
'Extremely Loud & Incredibly Close' is many things, a mystery, a family drama, a quest...even at times, a comedy. But in the end, this is a film about the relationship between a father (Tom Hanks) and his adoring son.
At year after his father's death in the Twin Towers, Oskar is still ridden with guilt and pain from his loss.
One day, he finds a key in his dad's closet...And it's this key that takes Oskar on an odyssey to discover the lock that the key fits.  And of course, he winds up finding something much more profound than he ever could have imagined.
Oskar's travels take him on a journey throughout New York's five boroughs and along the way, he runs into some eccentric, wonderful characters, including Viola Davis and Jeffrey Wright, a married couple with their own set of secrets.     
He also gets some unexpected help, from his grandmother's (Zoe Caldwell) mysterious Renter...Max Von Sydow.
Von Sydow will surely get an Oscar nod for Best Supporting Actor.  He gives one of the most compelling performances in the film and...he does it...without uttering one single word.
Sandra Bullock plays Linda, Oskar's mother and although she isn't in many scenes, her presence is felt throughout the film. In fact, one of the twists has to do with Linda's relationship with her son. 
'Extremely Loud & Incredibly Close' is based on a novel written a few years back by Jonathan Safran Foer and Eric Roth ('Benjamin Button') has done an excellent job in adapting it for the screen.  
Roth mentioned at the Writer's Guild Q & A that he wrote 50 drafts of the script.  Now that should give hope to all aspiring screenwriters.
In my opinion, I think this movie is a must see for everyone.  Simply put, it's a story about a very special boy, who comes to realize, that even when you lose someone you love, they never really go too far away.
'Extremely Loud & Incredible Close' opens in selected theaters, December 25, 2011 and expands to wide release on January 20, 2012.  It's a perfect holiday movie.
'Two Jews on Film' are ending the year, disagreeing...as usual...At least about this film.
Check out our video to see our bagel score.