Two Jews On Film Give Their 2013 Oscar Picks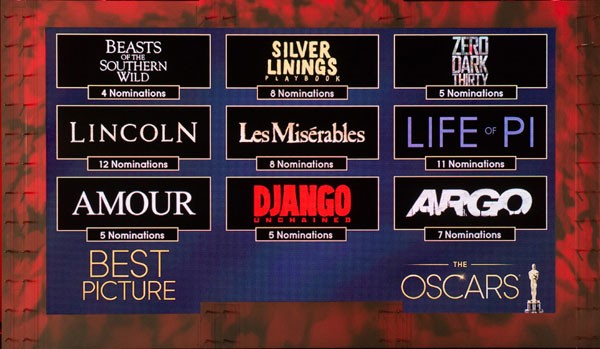 2012 was a great year for films.
We had an old fashioned spaghetti western that blended over the top comedy, violence and the horror of slavery from the always exceptional Quentin Tarrantino ('Django Unchained).
There were several films based on real life events - one that took us on an edge of your seat journey involving the hunt and capture of Osama Bin Laden ('Zero Dark Thirty' - directed by Kathryn Bigelow) and the other...
The rescue of 6 American hostages during the Iran 1979 revolution ('Argo' - directed by Ben Affleck).
Speaking of history, we saw all the manipulations and political intrigue involved in passing the 13th Amendment to the Constitution to abolish slavery. Of course the film is 'Lincoln' starring the amazing Daniel Day-Lewis and directed by Steven Spielberg.
2012 was also the year of first time filmmakers. Benh Zeitlin ('Beasts Of The  Southern Wild') which stars an endearing 8 year old girl (Quvenzhane Wallis) who manages quite effortless to steal our hearts with her brilliant performance.
'Silver Linings Playbook' (David O' Russell) gave us a funny and touching look at love and mental illness; while  'Les Miserables' gave us a performance by Anne Hathaway who is a shoe-in for best supporting actress.  Of course Hugh Jackman wasn't too shabby as the French peasant looking for redemption.
Nine Best Picture nominations and only five best directors still perplexes me.  How can you have a 'Best Picture' without the director being nominated as in the case of 'Argo' and 'Django Unchained'?!?
John and I usually don't agree about which movies get our top bagel award, but this year we did agree on our picks for Best Actor and Actress...Naomi Watts for 'The Impossible' and Daniel Day-Lewis 'Lincoln' got our nods.
Even though we disagreed on Best Supporting Actor, we both felt Helen Hunt deserves the Oscar for her work 'The Sessions.' Too bad John Hawkes her co-star got overlooked. He was amazing as the 40 something year old virgin living in an iron lung. All the guy wants to do (besides write poetry) is experience some hot sex before he dies.
Personally even though I picked 'Django Unchained' as my Oscar pick for 'Best Picture' I think 'Argo' will win. But we'll have to wait till Sunday February 24, 2012 to find out.
Check out our video (above) to see the rest of our picks and for more of our witty banter.
Please SUBSCRIBE to our channel on YouTube and LIKE us on our Two Jews on Film Facebook page. 
Thanks everyone and let us know your picks for 2012.