Two Dancing Games (Just Dance 4, Dance Central 3) and One Singing Game (SiNG Party) Prove I'm Tone Deaf and Have No Rhythm
There have been three games sitting atop my game pile since the fall of last year. I've avoided them with good reason. I not only knew I was going to be terrible at them, but more importantly, I did not want my roommate to see me (and hear me) being terrible at them.
But I finally took out SiNG Party, Just Dance 4 and Dance Central 3 recently to test them. They're all great games in their own right, but they also prove that I'm tone deaf and have no rhythm.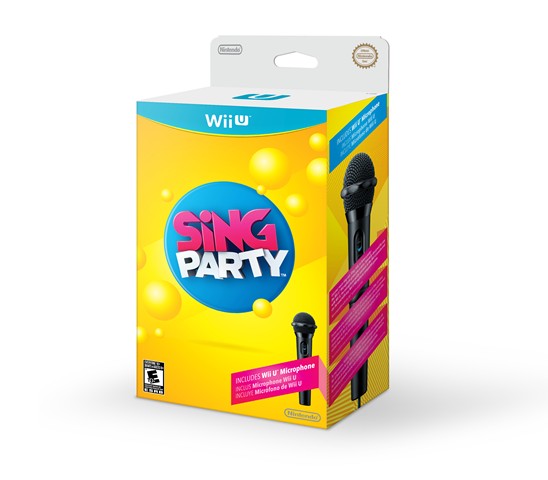 SiNG Party for the new Wii U console includes more than 50 songs from the 60s to current pop hits—though I found very little that personally interested me. (I don't like Tiffany or Miley Cyrus.)
It was weird setting it up for the first time since you actually face the GamePad's screen towards the TV to activate it. The USB wire for the included microphone is extremely long, which is much appreciated. (Though wireless would be even more appreciated.)
In "Party" mode, the lead singer can use the Wii U GamePad controller to read lyrics—it also means you can face your "fans" if you will and not have to keep your eyes glued to the TV. In "Sing" mode, however, up to two singers can be judged for their overall vocal performance on the TV in real time. The lyrics will be displayed both on the bottom of the screen, as well as shown going up and down along a pitch line.
In terms of peripheral use, the GamePad can even be used as an audio mixer (turn the instruments all the way down if you want) or to create a playlist. You can also see awards you've unlocked. And Wii Remotes can be used as instruments for backup.
The game will measure your dancing, but I didn't really receive any feedback when I activated that. I guess that means I did well?
Then it was time for the pure dancing games on Microsoft Kinect and the Xbox 360.
You'll find 40 songs on disc when you first fire up Just Dance 4 from "Good Feeling" by Flo Rida to "Moves Like Jagger" by Maroon 5 for the first time. But you'll also find some classics from artists such as Barry White and The B-52's. And recently released DLC let you download "One Thing" by One Direction or "Hit the Lights" by Selena Gomez and the Scene.
There's a variety of new and improved game modes. In "Battle" mode you can challenge friends in 5 rounds of dance battles. In "Just Sweat It Out," you'll get workout sessions, personalized programs and even a calorie counter. And of course, there's Duet mode and Dance Mash-up Mode.
Dancers can personalize their own dancer card which lists all your stats—favorite tracks, calories burnt or total time spent dancing.
When I fired the game up, I went right into Just Sweat first. I was fairly surprised at not only how hard the first song that was picked for me in the 80s pop culture mode, but how generous the game was being with its analysis. I was getting "ok" and "good" just by moving my hips, even though I was supposed to be moving my arms and legs too.
Hopefully the calories counter wasn't as generous and was a bit more accurate. However, even when I sat down on my couch to take notes while the game continued playing, it thought I was burning calories. I guess that's technically correct as you're always burning calories, but still…
The game started to set me up for a second song since you select total number of minutes you want to dance for, but I decided to quit out and go to Just Dance mode. Selecting prompts on the screen is odd in that you lean in with your arm to virtually press the button and then pull away to let go. I guess it's good that you won't accidentally press a button, but it's just awkward since most other games just want you to make a motion left or right, or simply hold your hand there to activate something.
In Just Dance mode, I selected "Call Me Maybe" since my roommate was not home. Still, I embarrassed myself quite a bit. I liked that not only the dance moves fit the song (like motions of being on a telephone) but also the background animations. Afterwards, the game showed my "funky moves" as still photos and offered to post them on Facebook or with the community on Just Dance TV.
No Just Dance 4. Never. NOT EVER.
After a session with Just Dance 4, I took some time to play its competitor, Dance Central 3.
One of the first things that might surprise you about Dance Central 3 is that there's a plotline. Yes. In a dancing game. (Also new in the game: multiplayer mode for up to 8 players and songs by Usher, Cobra Starship, Gloria Gaynor, 50 Cent and in DLC, Psy.) More than 40 songs come with the disc, though like Harmonix's other series Rock Band, you can import songs from Dance Central and Dance Central 2 if you own them—that will get you up to about 140 songs.
The story mode will see you dance to things like "The Hustle," "Electric Slide," and then to some more current hits. Outside of story mode, there's a "Crew Throwdown" mode that puts two teams of up to four dancers head-to-head which the "Keep the Beat" mini-game which judges dancers based on the rhythm of their movements, and "Make Your Move," which challenges players to create a move only one of you can master on the spot. And there's also a "Rehearse" practice mode that lets you examine choreography step by step.
You have multiple ways to control Dance Central 3. You can use your body through Kinect of course, but you can also use voice commands for almost every menu option in the game. And you can use SmartGlass, which I found was quite useful, but not for single players for me. At a party, however? It's an incredibly smart, well-though out design that would be essential.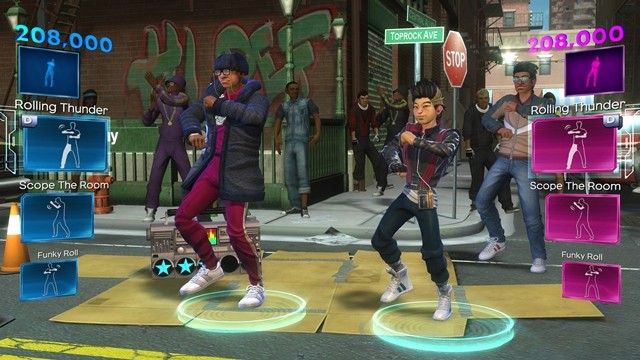 What I loved especially about navigating Dance Central 3, however, was the voice commands. I almost never used motions to navigate menus. When I fired up the game, I jumped right into that story mode, which is cheesy, but in a way that the game developers don't take too seriously.
Dancing was a bit harder in Dance Central 3 because I felt the diagrams for what moves were next weren't as easy to understand as they were in Just Dance 4. However, I really liked that the dancer I was supposed to mimic would have red highlighting on the parts of his body that I needed to correct when I did my moves wrong. It made it easy to see what I was doing wrong and, more importantly, correct it quickly.
Dance Central 3 was not as forgiving as Just Dance 4 and therefore might be preferred by people who are actually good at these games. I'm not however. I was horrible at all three, but even I could recognize why they're such big franchises. They're incredibly fun, even when you're terrible at what you're supposed to be doing.
I slightly preferred Dance Central 3 over Just Dance 4 because of the SmartGlass and voice command integrations, as well as the cheesy story, but you honestly can't go wrong with either. And if you want a game focused on singing, SiNG Party is also a good choice.
Just don't invite me over. You're not gonna like what you're gonna hear or see…
* Disclosure: All three games were provided by their individual publishers for the purposes of this review. *